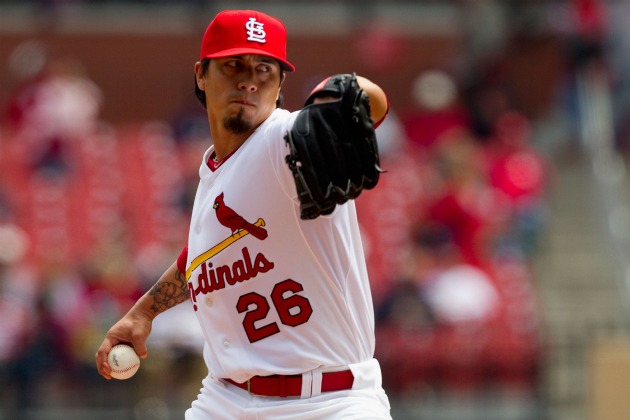 By Evan Brunell
3 UP
Kyle Lohse, Cardinals -- Yes, you read that right. Kyle Lohse is in the '3 Up' category. He does this because he two-hit the Nationals in a complete game, punching out six while walking just two. That lowers Lohse's ERA to a sterling 2.01, although it'd be nice to see Lohse pitch against a team with actual offense. The Nats, Dodgers and Giants don't quite cut it. Still, it's possible Lohse has rediscovered the Dave Duncan magic.
Felix Hernandez, Mariners -- A game Hernandez squeaked out by pitching at the top of his game? What is this, 2010? Felix went nine, allowing just four hits to the Athletics while striking out eight and walking three. He needed that zero in the runs category to win as Seattle could only muster one run in a brilliant performance himself by Brandon McCarthy, who went the distance in the loss. (Which technically only required eight innings.) Hernandez will need to buy a gold watch for Adam Kennedy, he of 72 homers in 1,503 games, who batted third and swatted a home run. Get ready for a season's worth of wisecracks against the Mariners' O.
Pedro Alvarez, Pirates -- And Pittsburgh breathes a big sigh. Alvarez went 3-for-4, swatting a home run and adding two RBI and runs apiece. Now the much-hyped prospect is only hitting .212/.278/.303! Alvarez is expected to be an important power hitter in the middle of the order for Pittsburgh, which desperately needs things to start going right in its never-ending quest for .500. A game like this qualifies as news to note for the Bucs.
3 DOWN
Felipe Lopez, Rays -- Go ahead and snicker. Someone who got signed to a minor-league contract, is on his eighth team (ninth if you don't count two separate tours with the Cardinals) and has thoroughly underwhelming career numbers is batting third for the Rays. Except, it's kinda worked out so far as Lopez has a .261/.292/.457 line. Like I said, kinda. But that line took a hit Thursday as Lopez whiffed three times, even if he scratched together a hit. There's going to start being a few more games like this and while Lopez is still deserving of a starting spot, at least for now, he'll end up dropped in the order quickly.
Chris Perez, Indians -- Ouch. The AL's best team (check the standings) took a rough loss Thursday as closer Chris Perez coughed up a two-run single to Melky Cabrera in the bottom ninth to cap off loading the bases en route to a 3-2 loss. Perez has been rather good so far this year, grabbing six saves and even after giving up two runs to the Royals, still has a 2.25 ERA. But he's not this good, and this is the start of a more human Perez. With the win, K.C. moves to within one game of Cleveland for the division lead. Wait, is this 2014?
James McDonald, Pirates -- McDonald really impressed last year after he came over from the Dodgers in an ill-advised deal for L.A. that got them Octavio Dotel. This year, though, he's busy living up to what it means to be a Pirate, giving up eight runs in three innings to the Marlins balloon his ERA to 10.13. McDonald still has the potential to emerge as a solid No. 3, but has also had to deal with Florida, Cincinatti and Colorado. A much tougher go of it than Lohse.
For more baseball news, rumors and analysis, follow @cbssportsmlb on Twitter or subscribe to the RSS feed.