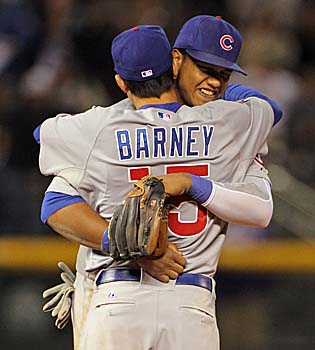 By Matt Snyder
3UP
Starlin Castro
and
Darwin Barney
,
Cubs
. One of my first memories as a baseball fan is the 1984 season -- in which I watched games on WGN and the Cubs had a 1-2 punch atop the order of Bob Dernier and Ryne Sandberg. They, together, were nicknamed the "Daily Double." In the decade ahead, it's entirely possible the 21-year-old Castro and 25-year-old Barney can form one of the most formidable 1-2 punches in baseball. They were on full display Saturday in the Cubs' come-from-behind 10-8 victory. Castro went 4-5 (even though one hit was the product of
Jerry Sands
losing a fly ball in left) with two runs and three RBI while Barney was 3-5 with two runs and three RBI. On the season, the two are completely locked in. Castro is hitting .393 with a .947 OPS. Barney is hitting .323 with a .772 OPS. Each has driven home 10 runs, which ties them for second on the team behind
Alfonso Soriano
. And I have to report the hits aren't cheap -- both players hit the ball hard nearly every at-bat. While the pitching staff struggles, the offense is producing well beyond expectations -- and it's mostly due to the duo atop the order.
Brad Penny
,
Tigers
. Look, the
White Sox
are struggling, specifically on offense. Regardless of that, it can't be denied they have lots of really talented hitters. And Penny took a no-hitter into the sixth. He ended up going seven innings for the Tigers, allowing only that one hit -- a questionable one at that -- two walks and a hit-by-pitch in a 9-0 win.
Daisuke Matsuzaka
,
Red Sox
. He's kidding, right? Two straight stellar outings? What is this, the World Baseball Classic? I might have to quit snarkily referring to him as "Dice-BB." Matsuzaka was masterful Saturday night, working eight shutout innings, striking out nine and only giving up a single hit. He did walk three, but that's not awful for eight innings. He retired 20 of the last 22 batters he faced. Don't look now, but the Red Sox are 9-11 after a 2-10 start. If Dice-K keeps throwing like this, they're going to be in pretty great shape.
3DOWN
Ryan Franklin
,
Cardinals
. The disaster of a season continues for the former star closer. He was booed more loudly than
Brandon Phillips
by the St. Louis fans and gave up the go-ahead two-RBI single to
Miguel Cairo
. He wasn't exactly put in a great situation by Tony La Russa with the bases loaded -- seriously, if you remove a guy from closing duties, shouldn't he get some low-pressure outings to build confidence? -- but still coughed up the big blow of the game. Again.
Fausto Carmona
,
Indians
. He was carved up by a
Twins
offense that has been rather punchless in the early going. Sure, they did have
Justin Morneau
, but still no
Joe Mauer
or
Delmon Young
. And Carmona allowed seven hits and six earned runs in five innings. Worse yet was his four walks and one strikeout illustrate the lack of stuff he had. If the Indians are to prove this start is not fluky, Carmona has to pitch better than he did Saturday. Fortunately for the Tribe, it's only one game.
Jason Vargas
and
Josh Lueke
,
Mariners
. The A's had been held scoreless for 18 straight innings heading into Saturday night's game with Seattle. Yet by the end of the sixth inning Saturday, they had scored nine times on Vargas and Lueke. Vargas needed 100 pitches to get through five innings, coughing up six hits, three walks and six earned runs. Lueke must have felt bad for Vargas, because he went out and gave up four hits, a walk and three runs in just one frame.
Kevin Kouzmanoff
,
Cliff Pennington
and
Coco Crisp
-- good guys and all, but hardly murderer's row -- did most of the damage for the A's.
BONUS UP and DOWN:
Brandon Lyon
,
Astros
. Lyon entered the game in the ninth inning with the task of holding onto a one-run Astros lead. He didn't. A
Prince Fielder
RBI double tied the game and Lyon had blown a save. He was left in the game, however, into extra innings and even took an at-bat -- one in which he doubled himself. He then closed the door in the 10th and earned the back-door victory. Not a bad night, but blowing saves isn't exactly good. Definitely interesting.
For more baseball news, rumors and analysis, follow @cbssportsmlb on Twitter or subscribe to the RSS feed.