By Evan Brunell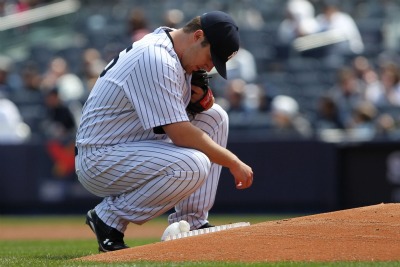 What's going on with Phil Hughes?
A day after the right-hander cut his bullpen short after reporting zero progress in improving the velocity of his pitches, Hughes underwent two MRIs and an ultrasound test as the Yankees scramble to find out just what's wrong with their prized righty as ESPN New York writes.
"I talked to a vascular doctor and underwent a solid hour-and-a-half of testing," Hughes said. "I'm not really scared. If they find something, they find something. This is just to figure out what's going on and get as much information as we can gather."
Hughes will undergo more testing Wednesday, although it is unclear what testing will occur. The testing done on Tuesday is being done to check for blood flow and circulation, but results won't come until Wednesday night.
"We don't have any results. We might come away and say all the results were negative. So what do you say?" Girardi said, clearly flummoxed by the issue. "Yes, he's thrown 160 innings before in the minor leagues. But, the jump from last year to the year before was somewhat substantial. And then you make the playoffs. Does that have something to do with it? Possibly. And those are reasons why we put innings limits. And sometimes we take innings limits on pitchers, but if everything comes back, that's what you point to. I don't know.
"I think that's why we talk about why we're careful. Everybody is unique, and everybody is going to respond differently to different workloads. I mean, no one can say that two bodies are alike. So what is going on with Phil, we may not see here for the next 20 years. We don't know why he's having his issues, but we're trying to find out."
Hughes tossed a career-high 192 innings last season over the regular season and postseason. In 2009, he tossed 92 1/3 innings, working primarily as a reliever.
For more baseball news, rumors and analysis, follow @cbssportsmlb on Twitter or subscribe to the RSS feed.