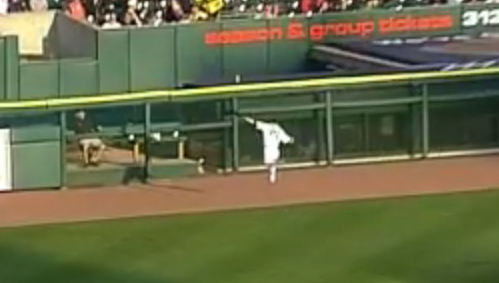 By Evan Brunell
One of the most embarrassing things that can happen to a player is to get a handle on a fly ball, only to muff it up and end up giving the batter a home run. It's pretty much the equivalent of an "own goal" in soccer, and Jose Canseco is the posterboy for such shenanigans.
Ryan Raburn unfortunately finds himself linked to Canseco in that regard after a ball clanked off his glove in left field and over the fence, handing Miguel Olivo a solo home run in the top of the second inning to draw the score even at 1-1.
(Click here to watch the video on MLB.com )
Raburn scrambled back to the fence to make a play on Olivo's fly ball, leaping at the beginning of the warning track and flinging his glove at the ball, making contact, then face-planting in the dirt. The velocity of the glove slapping the ball was enough to propel it the extra few feet needed to hop over the fence.
Just poor timing; that ball was destined to be a double, but instead, Olivo gets credited with his first home run of the year.
For more baseball news, rumors and analysis, follow @cbssportsmlb on Twitter or subscribe to the RSS feed.