By Evan Brunell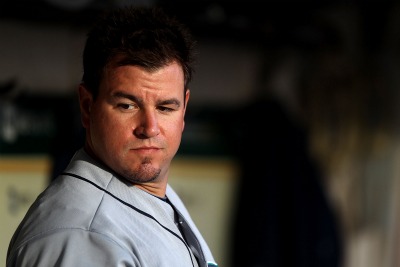 Geoff Baker of the Seattle Times starts off his piece looking at Jack Cust by saying the "slugger" was supposed to be Seattle's biggest offensive upgrade this offseason.
Without even knowing any more about Cust, that says all you need to know about Seattle's historically inept offense last season and its odds of improving this year.
Indeed, Seattle currently ranks 27th in baseball with just 78 runs scored, and it's hard to imagine the Twins remaining 29th, plus the Orioles are a better team than they have showed so far and are just one run behind the Mariners. It will be a surprise if Seattle finishes any higher than 29th, and even then it will be thanks to the Padres' own inept offense.
Once upon a time, Cust may have actually been viewed as an offensive upgrade, but those days are long gone. Formerly a minor-league lifer who did nothing but mash, Cust finally got his shot at age 28 in 2007 for the A's when he hit .256/.408/.504 with 26 home runs, then followed it up with a 33-homer campaign. Things quickly went south the next two years. While Cust did keep up his power by cracking 25 blasts in 2009, it was a significant enough drop to combine with a .240 batting average in making him not all that valuable. Cust recovered last season by producing a .272 batting average, but lost all semblance of power with just 13 round-trippers.
The Mariners signed Cust, no doubt hoping for a return to his 25-homer ways even if that meant a low batting average. Instead, the M's receive a punchless, hitless DH currently hitting .11/.326/.186.
Baker goes through several scenarios and concludes that if Cust stops hitting, he'll lose his job in mid-May once the Mariners return from an East Coast trip.
Cust could yet rebound, but it's extremely unlikely. Baker believes Seattle could DH Milton Bradley, which would free up an outfield spot for Franklin Gutierrez -- provided he's returned by the time of Cust's demotion from a mysterious stomach ailment -- and shift the Ryan Langerhans/Michael Saunders platoon to let. If Gutierrez isn't back, that could open up full-time spots for Langerhans and Saunders.
The other candidate for DH, as Baker thinks? Adam Kennedy.
Yeah, the average second baseman back in his heyday for the Angels who is now a backup. That Adam Kennedy. Tells you all you need to know about the state of Seattle's offense.
Fortunately, things could be getting better soon. Justin Smoak just returned from a stint on the bereavement list and appears in the process of delivering on his potential, plus top prospect Dustin Ackley could be manning second by June. It won't suddenly reverse the fortunes of Seattle's offense, but at least the M's will have one less position to worry about while seeking offseason upgrades.
For more baseball news, rumors and analysis, follow @cbssportsmlb on Twitter or subscribe to the RSS feed.