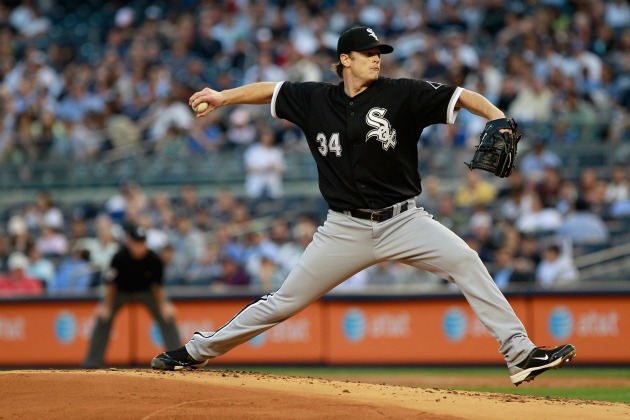 By Evan Brunell
3 UP
Gavin Floyd, White Sox -- Floyd was masterful against the Yankees, pitching eight innings (he departed the game after giving up a single to lead off the ninth), while whiffing 10 and allowing just two runs in a win. Floyd now has a 3.60 ERA as the 28-year-old has proven himself to be a valuable -- and extremely consistent -- pitcher for Chicago after flaming out of Philadelphia. He could be poised to make a leap this year and has the Orioles next on the docket.
Adam Lind, Blue Jays -- Lind showed the Rangers what's what by bashing two home runs on a 3-for-5 outing, tallying up five RBI. It's more of the same for Toronto against Texas, as Anthony Andro noted on Twitter, given the Jays have cranked a staggering 31 home runs against Texas in the last 13 matchups. That's an insane number. It may be the breakout performance needed for Lind to get going; he has the potential to hit well over 30 home runs for the Jays but was off to a slow start before Tuesday's fireworks.
Daniel Descalso, Cardinals -- The backup infielder has gotten some additional time lately thanks to the Skip Schumaker injury and David Freese sitting out a couple of games. His offensive slash lines were rather poor, but got a boost Tuesday thanks to a 3-for-3 night with a double, triple and three RBI. He also tacked on a walk for a night that will certainly earn him a bit more playing time over Tyler Greene moving forward.
3 DOWN
Aaron Harang, Padres -- Harang was part of the featured matchup On Deck earlier Tuesday as he was going for his NL-leading fifth victory. Instead, he gave up eight runs in six innings to the slumping Braves. Harang should still benefit greatly from playing in Petco Park, but being 4-0 with an 0.88 ERA just begged for a radical fix. Now, Harang has a more believable 3.90 ERA that he should hover around all year.
Brandon McCarthy, Athletics -- OK, so maybe the Athletics didn't make out like bandits with McCarthy. Having impressed out of the No. 5 spot up until Tuesday, McCarthy was due for a course correction and got it by coughing up seven runs and 14 hits against the Angels in just 5 1/3 innings. McCarthy got dinked to death with eight singles and did not give up a home run. It remains to be seen whether this is an aberration or the regression everyone has been waiting for. History suggests the latter.
Roy Oswalt, Phillies -- Oswalt got bombed Tuesday, coughing up five runs in three innings to the Diamondbacks. The right-hander has struggled with back spasms, but reports after the game indicated that his back was not bothering him. What's with the performance, then? An interesting twist is that Oswalt, usually accessible, left the stadium without talking to reporters, much to the surprise of Phillies media writers, some of whom wondered if something was up to cause Oswalt to depart quickly. He'll certainly have some questions awaiting him tomorrow.
HONORABLE MENTION: Brett Cecil, Blue Jays -- Cecil was demoted by Toronto after showing poor velocity and getting knocked around. It was good timing for Toronto to demote him, as he was burned for 11 runs 4 1/3 innings in his first start for Triple-A. Clearly, there's something not right.
For more baseball news, rumors and analysis, follow @cbssportsmlb on Twitter or subscribe to the RSS feed.