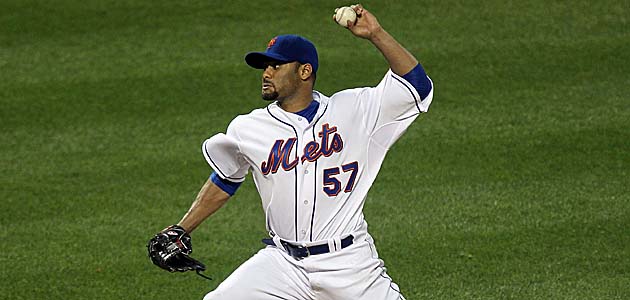 By Matt Snyder
When
Mets
ace
Johan Santana
underwent surgery on his left anterior shoulder capsule last September 14, the thought was he might return to the mound in the majors in early July of 2011. He's still not far enough along in the process to make an accurate call on when he might suit up for the Mets again, but he's definitely progressing and has had very few setbacks so far.
Tuesday afternoon, it was reported Santana was making "firm" throws from 120 feet. Remember, a pitching mound is roughly half that distance from home plate. He reportedly might back up to 150-foot throws before getting on that mound to feel things out from there, but he might be ready now to start the process on working himself back onto the hill. (ESPN New York)
Even if he did get on the hill within the next few days, Santana would need several bullpens and a minor-league rehab stint before rejoining his team.
Still, after an abysmal start, things are looking up for the Mets. They've won five straight games and now can at least think about getting Johan back at some point in the first half of the season. Santana is 40-25 with a 2.85 ERA, 1.18 WHIP and 496 strikeouts in 88 starts for the Mets.
BASEBALL TODAY:
Will
Andre Ethier
keep his hitting streak alive? Can the
Red Sox
rebound with
Josh Beckett
on the mound? Tony Lee of NESN.com joins Lauren Shehadi to fill you in.
ABOUT THAT STREAK:
I had some thoughts on Ethier's streak and hitting streaks in general yesterday. In case it got buried in the Everett/Dykstra madness,
here it is
.
ZIMMERMAN/HAMILTON DOING BASEBALL THINGS:
Ryan Zimmerman
and
Josh Hamilton
are two of the big names early in the season who have gone down with injuries. Both resumed what are terms as "baseball activities" Tuesday. Zimmerman did some light throwing and running, while Hamilton took some fly balls in the outfield and lightly tossed them back. Hamilton isn't anywhere near a return to the
Rangers
, though. Zimmerman was supposed to be at least close to back by now, considering the initial prognosis was three weeks -- and that was April 9. The
Nationals
are taking extra precautions with their star third baseman, so things are going to move slowly. He is expected to go on a minor-league rehab assignment before returning to the big club. (
Nationals Journal
)
MATUSZ PAIN-FREE:
It's been a rough 2011 for promising Baltimore pitcher
Brian Matusz
. It seems like he's only suffered setback after setback in his attempt to return from an intercostal strain in his shoulder. Tuesday, however, was a good day. Matusz threw long-toss (120 feet) and some light tossing off the mound and did so without pain.
"I felt really good. I felt good health-wise and I felt good mechanically," he said. "The pain's gone. I want to keep it that way. I've just got to be able to build my way back up as possible without taking it too far too fast."
Matusz and the
Orioles
are looking at a mid-May return. (
School of Roch
)
SAVE SKEWERING:
Matthew Leach of MLB.com wrote a great column on how managers have been taken out of their best mindset simply by one stat: Saves. The simplest way to put his point is that the highest-leverage situation in a game for a relief pitcher could come in any inning, and if it falls somewhere before the ninth inning, the manager refuses to use his best reliever, simply because it's not a save situation. And this could actually cost teams games. A highly recommended read. (
MLB.com
)
MR. APRIL:
Kosuke Fukudome
is an elite player in April. Seriously. This is his fourth April. In 343 April (or March) plate appearances in his career, Fukudome is hitting .358 with a .466 on-base percentage, 19 doubles, 10 home runs, 43 RBI and 53 runs. His 1.015 OPS absolutely dwarfs his next highest total for any month (.834 in August is next, while June and September are below .640).
Fangraphs.com
notices that this April, where he's almost hitting .500, is different than the past three, however.
SQUEEZE PLAY SANDWICH:
There won't be a middle ground here. You'll either think this "sandwich" looks awesome or disgusting. I fall in the former camp. (
This is why you're huge
)

THE THREE-(BLACK)HOLE:
The Red Sox are getting nearly nothing out of the third spot in the batting order. Considering the three options coming into the season to hit there were
Carl Crawford
,
Adrian Gonzalez
and
Dustin Pedroia
, it's a bit puzzling. Good analysis here, and -- much like the writer -- I'd expect the Red Sox just leave Gonzalez there and he will come around. (
WEEI.com
)
OLD-SCHOOL VS. NEW-SKOOL:
Here's an interesting piece about a fan taking his young son to both Miller Park and Wrigley Field and how much more kid-friendly Miller Park is. No, it's not the typical -- and played and over-played -- assault on Wrigley Field fans and the so-called party atmosphere. He points out all the activities for kids to do, Bernie Brewer going down the slide, the fact that there is a roof when the weather is bad and that there is a playground. His broad point is that getting kids to love baseball starts with getting them to have fun at the ballpark and it's not fun for a six-year-old to sit in frigid weather at a place like Wrigley. Even as a
Cubs
fan, I'm OK with that logic. At least it wasn't another uncreative attack on Cubs fans. (
Platoon Advantage
)
HIS NAME IS TREY:
Of course it is. The grandchild of Ken Griffey and son of Ken Griffey Jr., Trey Griffey, is looking to break into the collegiate sports world. Only he wants to play football. He's in the 2012 recruiting class, but unfortunately he's only been offered by Florida International. Still, the wideout does still have his senior year and some pretty enticing bloodlines. (
Dr. Saturday
)
UBALDO THE ROCKS' WORST STARTING PITCHER?
Say what?
Beyond the Box Score
measures this question with some data. I don't think anyone would predict this would be the case for the entire season, especially if
Ubaldo Jimenez
is completely healthy. The broader point is that with
Esmil Rogers
,
Jason Hammel
and
Jhoulys Chacin
coming into their own while
Jorge De La Rosa
throws well, the
Rockies
' rotation is pretty deep. It's a big part of the reason the Rockies are off to a franchise-best start and have done so pretty much without the help of Jimenez or
Carlos Gonzalez
.
For more baseball news, rumors and analysis, follow @cbssportsmlb on Twitter or subscribe to the RSS feed.