By C. Trent Rosecrans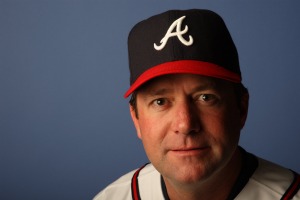 Every once in a while you read stories about whether a professional athlete could come out as a homosexual in this day and age, and every time it seems we're moving toward acceptance, we get pulled back to reality.
According to TMZ.com, noted attorney Gloria Allred has accused Braves pitching coach Roger McDowell of using several homophobic slurs and comments toward a group of male fans at San Francisco's AT&T Park last weekend.
According to Allred, McDowell asked a group of male fans, "Are you a homo couple or a threesome?" A family of four, including two 9-year-old girls, said after McDowell made the remarks, he used a baseball bat to simulate sex.
After the father confronted McDowell, the pitching coach reportedly responded, "Kids don't [expletive] belong at the baseball park." And then approached the man with a bat and said, "How much are your teeth worth?"
It's unlikely Bud Selig's crew will add McDowell's "kids don't [expletive] belong at the baseball park" as a marketing slogan anytime soon.
The family wants an apology from McDowell, as well as a fine from the commissioner's office for both McDowell and the Braves.
McDowell has yet to respond and he's innocent until proven guilty, but it's tough to say it's uncommon to hear that kind of talk in baseball clubhouses -- whether McDowell is dumb enough to say that outside the clubhouse, that's another story.
UPDATE: Bud Selig has released a statement on the incident:
"I was informed today that Roger McDowell, a coach of the Atlanta Braves, is being accused of engaging in highly inappropriate conduct toward fans at a game in San Francisco. Although I do not yet have all the facts regarding this incident, the allegations are very troubling to me. The Atlanta Braves have assured my office that they will immediately investigate the allegations, and report the results of the investigation to me. After I have all the facts, I will make a determination of how to proceed."
UPDATE: McDowell apologized in a statement today.
"I am deeply sorry that I responded to the heckling fans in San Francisco on Saturday. I apologize to everyone for my actions."
The Braves also issued a statement:
"We were made aware of an incident in San Francisco this past Saturday. We are concerned by these allegations and the behavior described by a witness today. This in no way represents the Braves organization and the conduct we expect of our employees. We will withhold further comments until we finish gathering information."
For more baseball news, rumors and analysis, follow @cbssportsmlb on Twitter or subscribe to the RSS feed.