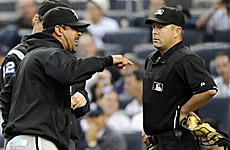 By Matt Snyder
In case you missed it,
White Sox
manager Ozzie Guillen was ejected early in his team's game against the
Yankees
Wednesday. Shortly after he was relegated to the clubhouse,
Guillen sent two tweets
about the incident, including saying it was pathetic (he spelled it incorrectly, but who cares). He also said it would cost him a lot of money.
We can't be sure if Guillen meant the ejection itself or tweeting would cost him money, because it turns out there's an MLB rule in place that social media may not be used from 30 minutes before the game until the game is concluded. (
Chicago Tribune
)
This is interesting, not only as it applies to Guillen. I know for a fact at least one -- I don't want to totally out him, so I'll just say he pitches in the NL East -- relief pitcher who tweets rather regularly during games from the bullpen. I've seen other players tweet during games, too.
Not that I disagree with the sentiment -- I personally think they should put it away for the entire game for several reasons -- but I'm not sure the MLB really needs a hard and fast rule in place. It feels more an issue that each individual ballclub should be dealing with.
For more baseball news, rumors and analysis, follow @cbssportsmlb on Twitter or subscribe to the RSS feed.