By C. Trent Rosecrans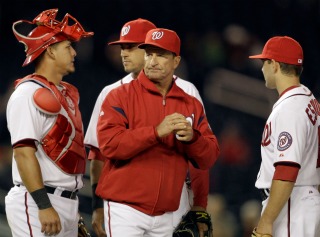 The Nationals still don't have a closer, manager Jim Riggleman told reporters before Thursday night's game -- and it has nothing to do with Sean Burnett's four-run ninth on Wednesday.
"I don't think I even want to use the word," Riggleman said, according to Ben Goessling of MASNSports.com. "I just what to get outs in the ninth. Let's finish the game, get outs. I'm not going to get too caught up in who gets the save. I just want us to get the save."
Good for Riggleman -- who even though his radio ads shun sabermetrics, he's going with prevailing sabermetric theory that the closer is overrated and the save stat is silly.
I'm actually more neutral in the debate. I understand the argument against the closer and think the rules to get a save are arbitrary and silly -- but I do believe a guy who can handle the last three outs is rare. Just because a guy usually goes into the ninth inning doesn't make him a closer. A closer has an attitude and brings an attitude. If you have a closer -- and not a lot of teams do -- you use him.
But if you don't have a closer -- like Riggleman -- why not go with matchups, like the Nationals manager says he will.
"If it's a situation where it's predominantly right-handers, definitely it would be Drew [Storen]," Riggleman said. "If it's predominantly left-handed, I would want to have Burnie there, but I would also want to do is not eliminate Burnie from being available in the seventh or eighth."
It would seem by conventional standards, Storen would be the choice -- he's saved each of his last four save opportunities (including Thursday's win over the Mets) and Burnett has allowed six runs in his last seven innings. But when you don't have a closer, why name one? Kudos to Riggleman.
For more baseball news, rumors and analysis, follow @cbssportsmlb on Twitter or subscribe to the RSS feed.