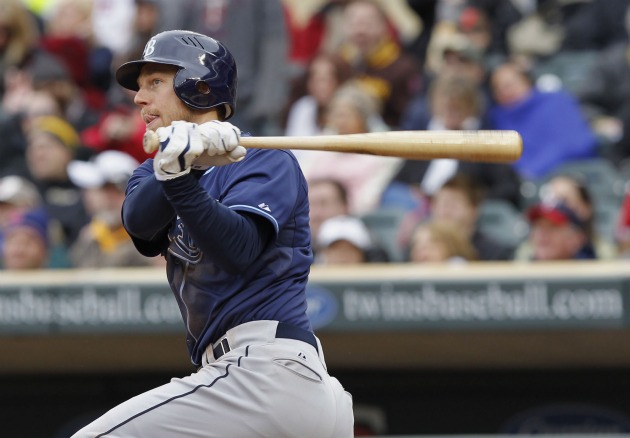 By C. Trent Rosecrans
3UP
Ben Zobrist, Rays -- Zobrist had 10 RBI on Thursday, eight in the first game of the doubleheader and two more in the nightcap in a sweep of the Twins. Zobrist was 4 for 6 with two doubles and a homer in the first game, and was 3 for 4 with a two-run homer in the second.
Brian Vogelsong, Giants -- The right-hander won his first game since Sept. 14, 2005. The 33-year-old made his first big league start since 2004. He spent some time in Japan before coming back to the U.S. last year, when he pitched in the Phillies and Dodgers systems before signing a minor-league contract this spring. He made two relief appearances in the last two weeks before pitching in Barry Zito's spot in the rotation, where he allowed just two runs on four hits while striking out eight in 5 2/3 innings against his old team, the Pirates.
Lance Berkman, Cardinals -- Against his old team, Berkman hit a three-run homer from the right side of the plate and an RBI single from the left side -- in the sixth inning alone. He added a solo homer (from the left side) in the ninth inning, going 4 for 5 with two homers on the night.
3DOWN
Royals pitching -- Kansas City starter Kyle Davies gave up four home runs to the Indians on Thursday, making it 17 homers surrendered by Royals pitchers in the six-game road trip through Texas and Cleveland.
Ryan Dempster, Cubs -- The best thing you can say about Dempster's outing on Thursday was it didn't last long. Dempster lasted just one out, but gave up seven runs on four hits, four walks and a hit batter before he was yanked. The big blow was Stephen Drew's grand slam.
Eduardo Nunez, Yankees -- Derek Jeter certainly has his critics when it comes to his defense, but those complaints are usually about his range. Nunez got the start at shortstop for the Yankees on Thursday and bobbled the first play of the game, letting Brent Lillibridge reach on an error. He added a throwing error in the seventh inning.
For more baseball news, rumors and analysis, follow @cbssportsmlb on Twitter or subscribe to the RSS feed.