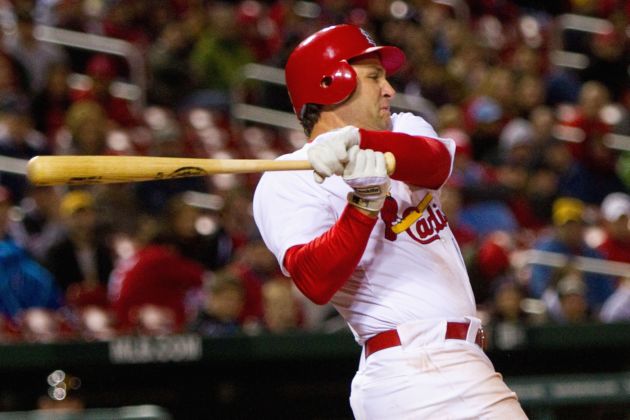 By Evan Brunell
Entering 2011, Lance Berkman wasn't taken seriously. He had just slogged through his worst season as a professional, splitting time between the Astros and Yankees. His bat looked slow and his body looked like it was ready for a new career as DH.
That made it all the more head-scratching when the Cardinals signed Berkman to play right field, which he had not done so in years after serving as Houston's primary first baseman for the last few seasons. There was much snark about it, but Berkman showed up in spring training having dropped weight and somehow has performed decently enough defensively that he isn't a liability.
On offense, Berkman's been an MVP as his eight home runs rank second behind Ryan Braun's nine. His .410 average also trails just one, teammate Matt Holliday's .433. He absolutely wrecked his former team in a three-game set in Houston and topped off the series with a two-homer game Thursday night.
It's easily his hottest April to date, and the St. Louis Post-Dispatch takes a look at all his other Aprils and finds that every other hot April makes Berkman end up as one of the league's best hitters by the end of the year. In his four slow starts, he still rebounds well, but doesn't come close to his production off hot Aprils. And yes, last season's poor showing was off a bad April.
What exactly is Berkman doing differently? It's not increased plate discipline, as his patience has actually decreased -- but so has his strikeout percentage, so he's making a lot more contact with the ball. That makes sense -- if you walk less and strike out less, you're going to put the ball in play a whole lot more often.
And what's happening to these balls when put in play is remarkable. His .406 batting average on balls in play is light years away from his career mark of .318 and most of that is fueled by line drives and fly balls. His line-drive percentage shows that he's squaring up balls impressively, which is also why he has the highest isolated power of his career so far.
Anyone in the game will certainly take what Berkman has done so far, but is the lack of plate discipline simply a reflection of the fat pitches he's been served, or a change in hitting philosophy? While some hitters can be too patient and hacking a bit more can help the overall game, Berkman's plate discipline has taken a sudden decline after years upon years of data to build on. Is the lack of walks due to a new hacking philosophy, or are pitchers simply less fearful of the slugger after his poor season?
The data seems to suggest the former. There's no question that Berkman is going after more pitches, as he's offering at 74.3 percent of pitches in the strike zone, compared with a career average of 71.3 percent -- but he was under 70 percent each of the last two years. In only two of his seasons -- 2007 and 2008, has his in-zone strike percentage matched his 2011 output. Berkman has offered at pitches inside the strike zone at a healthy amount before and is making contact at the same rate, so there's no arguments here and it helps explain why he's striking out less.
However, Big Puma is also offering at more pitches out of the zone, chasing 26.1 percent of pitches, which is a major spike from his career 18.1 percent. On the face of it, eight percent doesn't seem like much, right? Except Berkman has seen 22,414 pitches in his career and 9,876 balls. Multiply the total number of balls by his 18.1 percent swing rate at pitches out of the zone gives up 1,788 balls Berkman has swung at in his career. Now, multiply by 26.1 percent instead of 18.1 percent, and you get 2,578. That's a difference of 790 pitches, and it's significant.
So why hasn't it burned Berkman yet?
Because he's making contact on a ton of these pitches, far more than he ever has before. Of the pitches he's offered at out of the zone, he's connecting with 71.4 percent of them. Compare that to his career average of 48.3 percent, and that's a wild shift sure to fall back to earth. (Baseball's average contact rate this season on pitches out of the zone is 66 percent, but that's comparing apples to oranges. Those overall contact numbers represent every single baseball player and their specific quirks and talents. Berkman, for example, shouldn't be compared to Ichiro Suzuki, who is part of that overall sample.)
Look, no one expects Berkman to keep up this type of production, and the numbers back that up. But at the same time, it's also clear that his offensive resurgence is for real. Even if he regresses to his career percentages in out-of-zone contact and swinging percentage, it won't be enough to drop him back to obscurity. Berkman is back to being a force.
For more baseball news, rumors and analysis, follow @cbssportsmlb on Twitter or subscribe to the RSS feed.