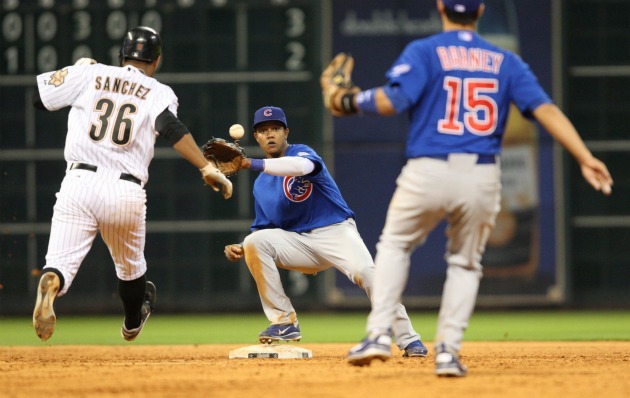 By C. Trent Rosecrans
Starlin Castro has certainly had his defensive struggles early in his career -- he had three errors on Monday and seven on the season, along with 27 in 123 games last season -- but don't expect him to switch positions anytime soon.
Even with his defensive struggles, Cubs manager Mike Quade said he wouldn't be moving Castro to second and second baseman Darwin Barney to shortstop as long as he's the manager.
"First of all, Starlin is going to be a real good shortstop, and if I didn't believe that it might be worth a conversation," Quade told the Chicago Tribune's Paul Sullivan. "As good as Barney is at second, I'm not sure how good a shortstop he would be on an everyday basis. And Barney would probably disagree with me on that.
"To me, both kids are benefitting from what's going on, where they're playing and everything else."
Quade was in the Athletics system when Miguel Tejada came up and some thought he should move to third.
"Sometimes those decisions [to switch positions] are made too quickly," Quade said. "I've seen too much of it to jump the gun on anything."
Castro certainly has the tools to be a good shortstop, but it's difficult to learn in the big leagues. The good thing is he has a bat that belongs in the big leagues, with he and Darwin Barney making up an impressive middle of the order, if not middle of the infield.
For more baseball news, rumors and analysis, follow @cbssportsmlb on Twitter or subscribe to the RSS feed.