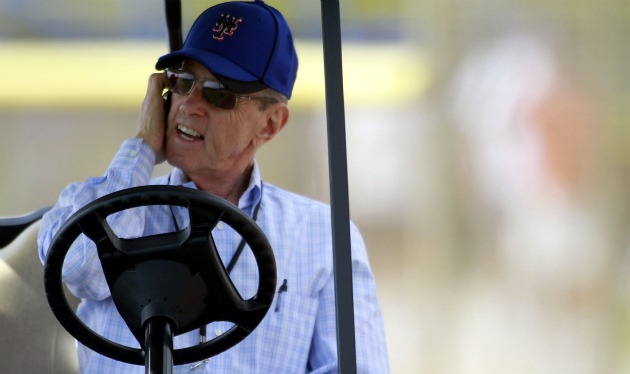 By Evan Brunell
When the Mets sell a minority stake in the team, the holder is expected to have input on the team, as the New York Post reports.
In fact, the new owner will receive veto power over some financial decisions -- but not all, Mets officials reportedly told the suitors still in the hunt for the stake. Such veto power will be used for overall payroll and large contracts to players, which is quite a bit of influence to have for someone not expected to be deeply involved with the club. The current owner, Fred Wilpon (pictured), does not intend to give up his majority stake and has his brother-in-law as president and son, Jeff, as COO. That doesn't leave much room for influence, but the Wilpons will make room by creating a board of directors to oversee the Mets' financial operations.
This represents a turnaround, as all three had previously said they would "continue to control and manage the team's operations," but now plan to treat the new owner as a "real partner."
What's the reason for the change of heart?
It's difficult to say as there's no reports on the change of heart. In pure speculation, one has to wonder if the Wilpons are now less confident about being able to hang onto their majority share of the Mets. They are being sued for a billion dollars by trustee Irving Picard, tasked with overseeing the reparations of Bernie Madoff's victims. The Wilpons were heavy investors with Madoff and made millions of false profits and also encouraged select friends and associates to invest with Madoff. They also put Madoff's fund in the 401(k)s of employees at Sterling Equities, the Wilpons' real-estate firm, which has wiped out many employee's retirement savings.
In addition to the Madoff scandal perhaps impacting the change of heart, the Dodgers situation may also have caused consternation. Bud Selig has come under fire for the perceived similarities between L.A. and New York, and yet treating the two differently, perhaps because the Wilpons are long-time friends of Selig. The commissioner has denied this, saying the two situations are sharply divergent. That said, public pressure could be enough to cause the Wilpons to make concessions to ensure the grace of their fans that the Mets are being run properly. Giving the new owner, who could command a stake anywhere from 20 to 49 percent, more say could be one way of addressing that.
For more baseball news, rumors and analysis, follow @cbssportsmlb on Twitter or subscribe to the RSS feed.