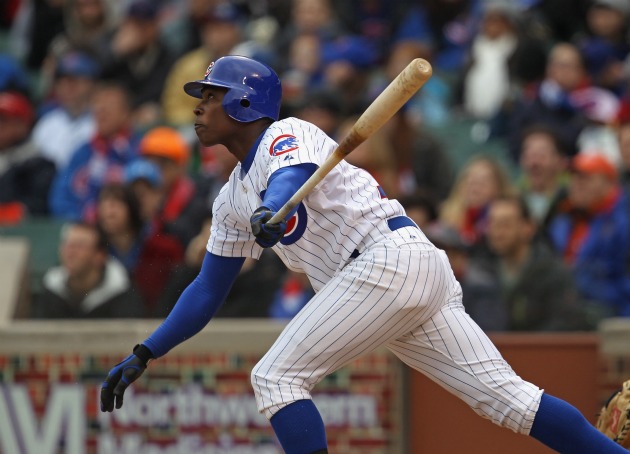 By Evan Brunell
So far, Alfonso Soriano is justifying his $18 million salary.
Yes, Soriano hasn't quite lived up to the billing of his eight-year, $136 million deal, but that was a fait accompli from the start. No one could have envisioned his fall to merely a "good" player, however. Now, two years removed from his worst season as a professional by hitting .241/.303/.423, Soriano's power is back in a big way as he slammed two home runs Friday night to push his season total to nine.
No one thinks Soriano will hit his projected total of 58 home runs, but is it that outlandish to think he could reach 40? His strong April start has certainly put that into consideration. Looking at his career totals, Soriano has 323 career homers in what amounts to 10 and a half career seasons. That generally works out to 63 months and a touch over five home runs a month. A rudimentary calculation to be sure, but it ges the job done for comparison's sake. Assuming he hits five home runs a month for the remaining months of the year, that puts him at 34 home runs, so 40 isn't far fetched.
Even those 34 home runs would represent a high for Soriano in a Cubs uniform, as he hasn't cracked 30 since his inaugural year of 2007 with 33 home runs, concluding a streak of five out of six years with at least 30 blasts, reaching 46 with the Nationals in '06.
It's not all peachy for Sori, however. Home run display aside, he's actually had a rather disappointing year as his batting average is .247 -- continuing a new trend established over the last three years as someone who struggles to hit over .250. His OBP is also poor, checking in at just .269. Soriano has never been known for his plate discipline, but his current walk rate of 3.2 percent would be his worst since 2002's 3.1 percent, his second full season as starter.
Fortunately, while Soriano's plate discipline markers are low, so is his batting average on balls in play, so he should rebound in that department, raising his average. He also isn't significantly diverging from his career numbers at swinging both in and out of the zone. Couple that with his power outburst, and it's easy to posit that his newfound barrage is due to pitchers challenging him more given his eroding skills, ala Lance Berkman, another hitter who has exploded so far this season.
Even if Soriano's power numbers are bound to decline, his average should rise, and while it's too early to speculate on whether this is a revitalization or just a hot start, the numbers are promising so far. If the Cubs hope to shock everyone and win the division, they're going to need balls flying over the fence from Sori's bat.
For more baseball news, rumors and analysis, follow @cbssportsmlb on Twitter or subscribe to the RSS feed.