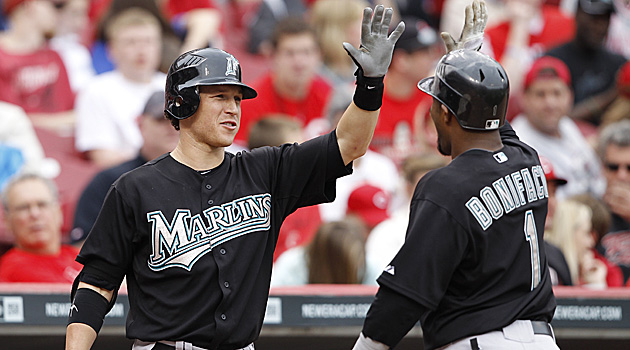 By Matt Snyder
3 UP
Florida
Marlins
' offense.
Hanley Ramirez
started the fun in the first inning with his first home run of the season, snapping an incredibly long drought for himself. The Marlins weren't done with the long ball, though -- far from it. Before the day was over, they'd connecting on five home runs.
Greg Dobbs
and
John Buck
went deep.
Mike Stanton
hit a mammoth blast to center. Even the light-hitting
Emilio Bonifacio
knocked one out, and it was his first career home run that wasn't of the inside-the-park variety. Meanwhile, the Marlins won 9-5 and continue to claw at the heels of the mighty
Phillies
in the NL East. They are certainly one of the most fun teams to watch. Too bad so few do in person. Maybe (hopefully) it changes in the new yard next season.
Bud Norris
,
Astros
. Even if they aren't always consistent, the
Brewers
have some pretty good hitters, led by superstars
Ryan Braun
and
Prince Fielder
. Norris stymied the whole team for almost eight innings Sunday, working 7 2/3 innings and only allowing three hits. He did walk three, but also struck out 11 without allowing a single run. He's now thrown 13 2/3 shutout innings in his last two starts and has a 1.05 ERA in his last four starts (25 2/3 innings) after a rough first two outings.
Carl Crawford
,
Red Sox
. There are no words that could possibly describe how abysmal the start in Boston has been for Crawford after signing his gargantuan contract. Sunday, we moved to a new month and Crawford knocked in the game-winning run in walk-off fashion against the
Mariners
. He got to celebrate with his teammates and hear the home crowd cheer him. I love stats, but one thing stats can't measure is the human element. Now that Crawford has had a weight lifted off his chest, the bet is he gets going. When he does, you'll hear that it was simply a regression to the mean from many, but it has to start somewhere. Breaking through with a big hit like this is something that sets a player's mind at ease.
BONUS UP: The Phillies fans -- along with a decent amount of
Mets
fans -- in attendance Sunday night in Philly. When news of Bin Laden's death spread through the stadium, fans stopped worrying about team allegiances and chanted "USA! USA! USA!" (There's
a good video of it here
, but I'm not sure it lasts too long before MLB sees it and pulls it). It's a nice reminder that, while we might bicker amongst ourselves, we're still Americans. Pass along some of that camaraderie this week.
3 DOWN
Ryan Franklin
's fortunes,
Cardinals
. Franklin took the loss and the Cardinals' late-inning bullpen woes continued. If you look only at the surface of what happened, that's what you'd see. But remember, you can learn a lot by actually watching games. Not only did
Ryan Theriot
drop a pop-up to let
Alex Gonzalez
on base -- who scared the game-winning run -- but the
Brooks Conrad
single to win the game for the
Braves
was a blooper with eyes. Anyone who blames Franklin for this doesn't know a lick about baseball.
Matt Harrison
,
Rangers
. So much for that hot start. Remember, after Tax Day, Harrison was 3-0 with a 1.23 ERA. Then he had a decent outing (6 2/3 innings, three earned runs) and took the loss. Since then he's been dreadful, and that may even be an understatement. In his past two starts, including Sunday's debacle against the slap-hitting A's, Harrison has allowed 14 hits, 11 earned runs and five walks in 4 2/3 innings. He couldn't even make it through two innings Sunday. Worse yet for Harrison is the fact that
Tommy Hunter
,
Scott Feldman
and
Brandon Webb
are making progress in recovery from injuries -- not to mention how well
Alexi Ogando
is throwing the ball. Harrison could very well be pitching himself out of a job. Who woulda thought that a few weeks ago?
Carl Pavano
,
Twins
. He's in such a bad stretch, he can't even properly throw a temper tantrum. After being rocked by the
Royals
to the tune of 12 hits and six earned runs in 5 1/3 innings, Pavano went nuts on something in the corner of the dugout with a bat (
watch it on MLB.com by clicking here
). To use one of my favorite lines from Seinfeld, Pavano failed at failing, because he was trying to break the bat: "That's why I kept wailing away, because that [expletive deleted] wouldn't break." (
Twins Now
via Twitter)
For more baseball news, rumors and analysis, follow @cbssportsmlb on Twitter or subscribe to the RSS feed.