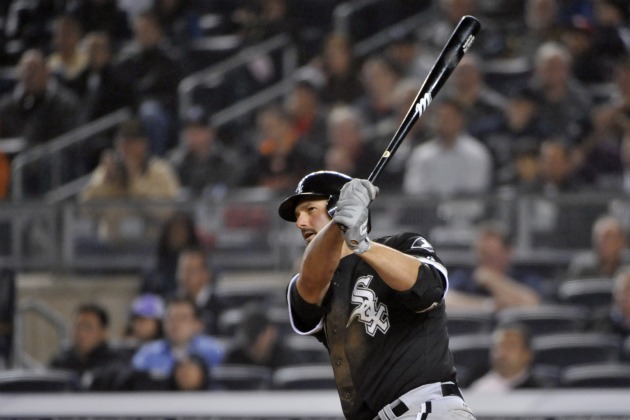 By Evan Brunell
Last season, in his age 34 season, Paul Konerko posted his best season with a scintillating .312/.393/.584 mark and 39 home runs along with 111 RBI.
This year, Konerko's pacing for his third-best season ever, percentage points behind his 2006 year for second-best.
This isn't supposed to happen in the post-steroid world. When you get older these days, you get worse, not better. Except the opposite is true for Konerko, but he's doing things very differently than last year.
He's walking and striking out less, hitting more ground balls and less fly balls, but that hasn't fazed him en route to a .304/.365/.545 line in 126 PA with eight home runs. That projects to 43 home runs, which would be a career high.
The proof is in how in tune he is with the ball, as virtually anything he swings at is being rifled. In this vein, walk numbers don't matter so much when one is putting good wood on a pitch they can actually handle.
Konerko has offered at 29.2 percent of pitches outside the strike zone, numbers fairly consistent with last season but still way over his career mark of 21 percent. It appears as if he expanded his strike zone last season and found so much success that he's sticking with that. Why not, right? Except the opposite is true for the frequency of swings in the strike zone, as his 64.5 percent career line dovetails nicely with his 64.4 percent mark on the season. That's significantly higher than his career low 59.9 percent offerings last season.
But the real eye-popping number comes into play is this: 97.2 percent.
That's how often he makes contact with pitches in the strike zone, which is way over his 89.1 percent career line, which is also the range in which MLB players average. Simply put, anytime he puts a swing on a pitch that pitch F/X considers a strike, he's making contact. He's doing the same for pitches out of the zone, as his 70.7 percent contact rate is much higher than his 58.3 percent career mark.
But surprisingly, his 97.2 percent contact rate on pitches in the strike zone don't rank first in baseball. Or second. Or... you get the point. He's sixth behind an interesting who's who in Miguel Tejada (99 percent!), Michael Brantley, Prince Fielder, Ian Kinsler and Juan Pierre. Brantley and Fielder are having excellent seasons while Kinsler is doing well enough and Tejada and Pierre are both zeros so far.
OK, so making a high number of contact in the strike zone doesn't automatically mean one is having a great season, but when you look at Konerko's total package, it seems clear that he's zoned in at the plate and as long as that lasts, he'll be making plenty of contact with the ball -- and sending it over the fence.
For more baseball news, rumors and analysis, follow @cbssportsmlb on Twitter or subscribe to the RSS feed.