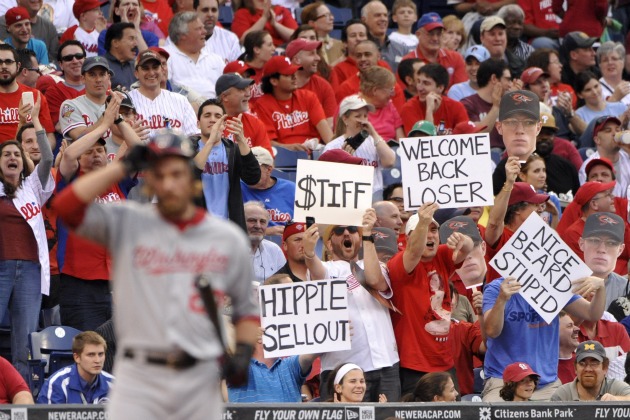 By C. Trent Rosecrans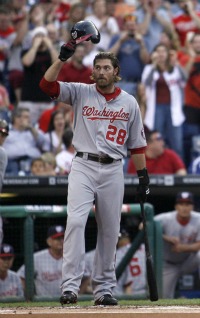 Jayson Werth showed Tuesday he learned a little about the city of Philadelphia and its sports fans in his years there.
In his first game back at Citizens Bank Park since signing his $126 million contract with the Nationals, Werth turned boos into cheers with a simple acknowledgement of the fans.
Although many booed when he was announced in the first inning, there were some cheers. Werth acknowledged them by doffing his helmet -- which in turn earned him a standing ovation from many of the 45,695 at the park. He walked in his first at-bat and finished the game 0 for 3 in the team's 4-1 loss.
"After the four seasons I spent here and what was accomplished while I was here, to welcome me back like that, it means a lot. It really does," Werth told reporters, including CSNwashington.com's Mark Zuckerman. "It's something I'll definitely remember for a long time."
He got booed much of the night, but said he didn't mind.
"I love playing here," Werth said. "I always have. I always will. No matter what."
In this day in age when the negative is so easily played up, it's nice to see Werth acknowledge the fans in attendance who did cheer him -- and kudos to those fans who let him know they appreciated what he did in his time in Philly.
For more baseball news, rumors and analysis, follow @cbssportsmlb on Twitter or subscribe to the RSS feed.