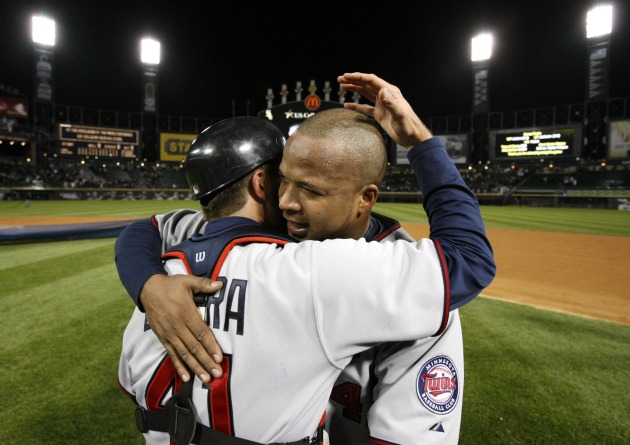 By C. Trent Rosecrans
3UP
Francisco Liriano, Twins -- I'm making a new rule here, you throw a no-hitter, you get in 3 up, 3 down. I'm sure Francisco appreciates it. A tip of the cap to White Sox starter Edwin Jackson, who was pretty good, too. Jackson gave up one run on six hits in eight innings.
Daniel Descalso, Cardinals -- The infielder's first career homer, a three-run shot off of Clay Hensley in the seventh inning, gave the Cardinals the lead, and ultimately the 7-5 victory over the Marlins. Descalso was 2 for 3, playing second and third in the game.
Raul Ibanez, Phillies -- Ibanez snapped an 0-for-35 streak with a fourth-inning ground-rule double off of the Nationals' Livan Hernandez. He added another double in the seventh inning that scored a run in the Phillies' 4-1 victory. He's now hitting a robust .168.
3DOWN
Mike Leake, Reds -- After Tuesday night's performance, the Reds announce Leake would be headed to the bullpen to make room for Johnny Cueto and Homer Bailey to return to the rotation. Leake allowed seven runs on seven hits in 3 2/3 innings in a 10-4 loss to the Astros, but he did strike out five in that short time.
Rangers bullpen -- The Rangers' Pedro Strop gave up leads in the seventh and eighth inning as the Rangers lost in an opponent's final at-bat for the sixth time this season and second time in a row, also losing to the A's in the 10th inning on Monday. Darren Oliver allowed Hideki Matsui's walkoff on Monday, and gave up an RBI single to Jack Cust on Tuesday to score the winning run (even though it was charged to Strop). Neftali Feliz is scheduled to return soon, and it won't be too soon for the Rangers.
Josh Thole, Mets -- With bases loaded and one out in the ninth inning, the Mets catcher did the one thing his team couldn't afford him to do -- ground into a double play. The Mets then lost the game in the 10th on Aubrey Huff's homer off of Taylor Buchholz. Thole also had a throwing error in the fourth inning the helped lead to a Giants' run.
For more baseball news, rumors and analysis, follow @cbssportsmlb on Twitter or subscribe to the RSS feed.