By Evan Brunell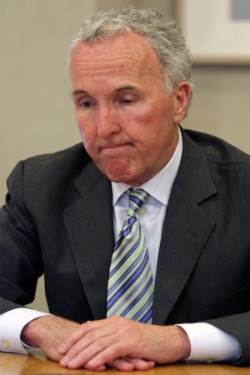 The Dodgers saga is far from over, as the Los Angeles Times reports that Frank McCourt will be unable to meet May payroll without approval of a TV deal with FOX that will give L.A. $3 billion, with $285 million payable immediately that would cover payroll for the remainder of the season.
However, that deal is wallowing at the feet of commissioner Bud Selig who is awaiting both the approval of McCourt's ex-wife, Jamie, for the deal along with Tom Schieffer's OK. Schieffer was recently appointed as monitor of the Dodgers in a power-grabbing move by Selig that is thought to be an attempt by the commissioner to push McCourt out of town. Schieffer is reviewing all Dodger finances and Selig will not approve any deal until Schieffer completes that review.
"It will be a thorough investigation," Schieffer said. "I would anticipate it would be longer than two weeks."
It's possible Schieffer will not conclude his investigation until the end of May, which will really put the squeeze on McCourt. Even if Schieffer comes through and OKs the deal, it's difficult to imagine Selig giving the green light in time for McCourt to pay his players. With the Dodgers then defaulting on payroll obligations, Selig would be able to legally and formally seize the team from McCourt and force a sale. McCourt could circumnavigate this by negotiating yet another personal loan, but it is unlikely FOX would grant another personal loan on top of the $30 million lent for McCourt to meet April payroll.
That means what is already a messy situation could get messier. If Selig doesn't release his grip on the TV deal and McCourt faults with baseball grabbing the team, McCourt would certainly sue over the proceedings and would have a solid case in court as he could easily contend that baseball froze him out and made him unable to make his payments through no fault of his own. Of course, McCourt dug his own grave, but you can't blame him for trying to climb out of it.
For more baseball news, rumors and analysis, follow @cbssportsmlb on Twitter or subscribe to the RSS feed.