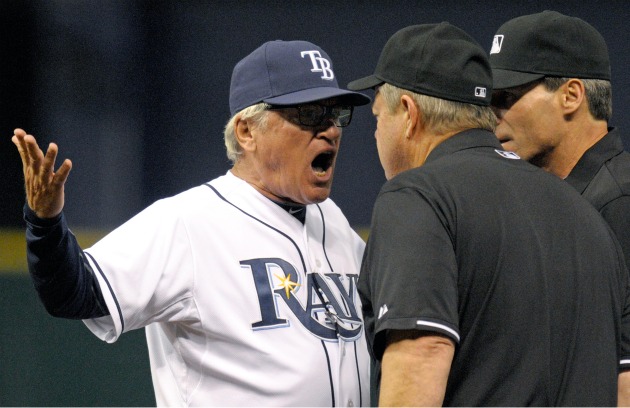 By C. Trent Rosecrans
It's not exactly Jim Joyce costing Armando Galarraga a perfect game, but don't tell that to Rays manager Joe Maddon.
Umpire Joe West said he "may have erred" in reversing a call in the Jays' 3-2 victory over the Rays on Wednesday.
West's explanation is a little confusing, so I'll start with describing the action first.
With one out in the seventh inning and the Jays leading 3-1, the Rays had runners on first and second and Sam Fuld at bat. Fuld hit a grounder to third, where Edwin Encarnacion fielded the ball, stepped on the bag and threw to first, where Adam Lind was pulled off the bag by Encarnacion's wide throw and tried to tag Fuld. West called Fuld safe.
Toronto's Don Wakamatsu, who was the acting manager after John Farrell was ejected earlier in the game, came out to protest and West quickly called Fuld out, ending the inning.
According to a pool reporter (via the National Post), West said second-base umpire Angel Hernandez told him he clearly saw that Lind made the tag. Hernandez also told West that Fuld had reached the base first, but West ignored that part.
"All I asked Angel was did [Lind] tag him, and Angel told me, 'I thought you had [Fuld] safe for being not he bag,'" West said. "I didn't heed that warning.
"I made the judgment based on what I had at first base. So it appears that we may have erred, but we did everything [by] protocol, right by the book. I don't know what else we could have done."
Joe Maddon came out and was promptly tossed from the game.
"If there's any particular play that screams for instant replay, it's that one," Maddon told reporters after the game. "I just don't understand how you can make that call from that distance. I don't believe you can see it properly. That was my argument."
Replays showed Fuld was likely safe -- and West was initially right that Fuld was safe and Hernandez was right that Lind did get a piece of Fuld -- even if it was after Fuld hit the bag.
In the end, Maddon's right -- replay would solve these problems and the game could have been different. A couple of years ago the umpires made a concerted effort to put their egos aside and confer more often on close calls. It was a step in the right direction, but it's about time to not just take steps in the right direction, but to reach the destination of fairness. In the end, the most important thing is getting the calls right, and it doesn't matter how that's achieved.
For more baseball news, rumors and analysis, follow @cbssportsmlb on Twitter or subscribe to the RSS feed.