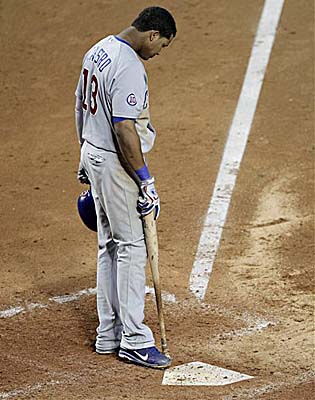 By Matt Snyder
In case you didn't see,
Starlin Castro
is on the cover of
Sports Illustrated
this week with the headline, "The Education of a Shortstop." The story discusses the ascent and potential of the budding star, who is the youngest player in the majors this season. Of course, true to form, the timing ended up being dubious. Castro stormed out of the gate and was one of the best hitters in baseball for the first three weeks of the season. He was hitting .418 with a 1.025 OPS through 15 games.
In the past 15 games, however, he's been a bit lost. He's hitting .203 with a paltry .227 on-base percentage and .234 slugging percentage in that time span. The worst part is, he just looks different from the guy who was locked in for the first 15 games of his young season.
So, the question now is whether Castro's slump is simply a regression to the mean or a reflection of something else. I actually believe it's a little bit of both. It was natural for his numbers to come down some, because he obviously wasn't going to hit .400 all season, especially not as a 21-year-old free-swinger. The latter part of that statement is part of the current problem, too.
I go back to an at-bat against the
Astros
on April 11. Castro was 3-5 with three runs scored in the
Cubs
' win, but a sixth-inning strikeout specifically caught my eye. It was a 13-pitch marathon of an at-bat, and maybe one of the pitches was actually in the strike zone. Many weren't even close, but he was swinging at everything and fouling it off.
Castro was likely to start getting pitched around more anyway, due to swinging a hot bat, but the more opposing teams see how he swings at pitches in pretty much any location, the less pitches he is going to see in the strike zone.
That is what is happening to the youngster now. He's not getting anything to hit, but he's not content to take walks -- as he only has one in the past 15 games and none since April 22.
There needs to be a concerted effort by the Cubs' brass, namely manager Mike Quade and hitting coach Rudy Jaramillo, to get Castro more selective at the plate. The most important person in the equation is Castro himself, though. Until he makes the adjustment in the box, he's not going to see good pitches to hit.
Fortunately for him, he's only 21 and has loads of talent. Expect an adjustment soon, and when it happens he's going to catch fire again.
For more baseball news, rumors and analysis, follow @cbssportsmlb on Twitter or subscribe to the RSS feed.