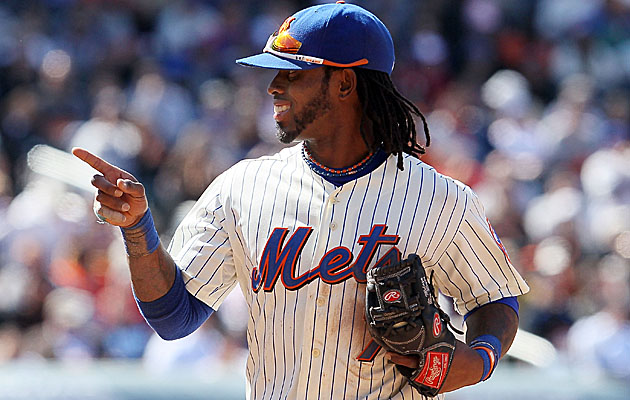 By Matt Snyder
Remember the rampant
Cliff Lee
speculation? Or
Jake Peavy
,
Alfonso Soriano
(on the
Nationals
), Randy Johnson (
Mariners
) or any number of guys who you heard were going to about seven different places for months leading up to the trade deadline in recent memory?
That's going to be
Jose Reyes
this year. The reasons are obvious:
1. The
Mets
aren't likely to retain him after this season. He's a free agent, they have money issues and he's going to command a pretty big salary in the open market. Unless the Mets totally reverse course and decide to deal
David Wright
for a load of prospects and then re-up and build around Reyes, there's very little chance a team losing money can afford to get into a bidding war. They need all the relief they can get (thank Madoff again, Mets fans).
2. The 2011 Mets aren't going anywhere. It's early, but they're already 8 1/2 games out in the NL East. There are three far superior teams in the NL East, which means the Wild Card won't be an option either.
3. There are plenty of contenders with a hole at shortstop.
Jon Heyman of SI.com
offered up the
Cardinals
,
Giants
,
Brewers
,
Red Sox
,
Twins
and Mariners in his most recent column. Some of those make a lot of sense for varying reasons. For me, the Mariners don't. Not in the least. The others do, though. The Cardinals could use
Ryan Theriot
at second base and have a paper-thin infield at this point. The Giants would get a huge upgrade to what's left of
Miguel Tejada
. The Brewers have mortgaged the future to go after the prize this season (
Prince Fielder
's last in Milwaukee), so grabbing a few months of Reyes would make sense -- if they can find a package of worthy prospects to send back. Which they probably don't, but you never know. The Red Sox would be replacing
Jed Lowrie
/Marco Scutaro. The Twins would get a huge upgrade over
Alexi Casilla
, but they would need to get healthy and back in contention to even think about it. As for others? If the
Braves
want to upgrade from
Alex Gonzalez
, though I'm not sure the Mets deal within the division. What about the
Tigers
, if they are in the thick of the AL Central race come July? They could definitely use him at short and atop the order.
4. He's proving healthy and in his prime. Injuries have hampered Reyes for the better part of the past two seasons, but he's doing everything right now to show he's back. He's hitting .313 with a .363 on-base percentage, 19 runs, 10 doubles, three triples, one home run, 10 RBI and 11 stolen bases. He's showing good range in the field and is playing with the fire he's always had. This guy is a catch. So expect a bidding war, where the Mets can land a pretty good package back.
It's May 6. July 31 is a long way away. That's a lot of Jose Reyes talk. Just don't say I didn't warn you in mid-July when you're sick of hearing about it.
So, in my best George Costanza voice: I declare this, the summer of Reyes!
For more baseball news, rumors and analysis, follow @cbssportsmlb on Twitter or subscribe to the RSS feed.