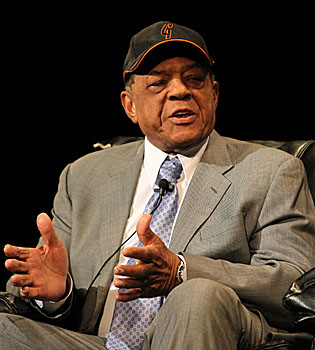 By Matt Snyder
One of the greatest baseball players in history turned 80 Friday. In honor of Willie Mays reaching yet another milestone in his life, let's take a look at what he did on the baseball field, to honor him.
The Say Hey won a Rookie of the Year, two MVPs (and according to many, deserved at least three more), 12 Gold Gloves, two All-Star Game MVPs and a World Series.
He amassed more than 3,000 hits, 2,000 runs, 650 home runs and ended with 1,903 RBI. He finished in the top six of MVP voting 12 times. He led the league at least one season in runs, hits, triples, home runs, stolen bases, walks, batting average, on-base percentage, slugging percentage, total bases and had the top OPS five times. There's a lot more. I recommend looking at
his Baseball-Reference page
and just enjoying the greatness.
But you can't define the man in numbers. He was a personality that transcended baseball, providing masses of fans with stories to be passed along from generation to generation. He came into the league just four years after Jackie Robinson broke the color barrier and faced racial hatred on a daily basis I don't even want to imagine. The game is hard enough to play without thinking someone out there might want to kill you just for playing. And Willie excelled in the face of it, like so many other courageous black players of the era.
Willie Mays has lived such a full life we can't even pretend to be able to sum it up with a bunch of numbers or words. Let's just wish him a happy 80th and sit back and watch one of the most famous defensive plays in baseball history.
Enjoy.
For more baseball news, rumors and analysis, follow @cbssportsmlb on Twitter or subscribe to the RSS feed.