By Evan Brunell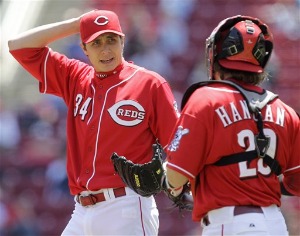 Homer Bailey has long been tantalizing the Reds with the potential that saw him drafted with the seventh overall pick in the 2004 draft. Injury and poor command have sapped his ceiling, but he showed encouraging progress last season in 19 starts and may be primed for a major leap forward after dominating the Astros on Thursday.
"He's had spurts of dominance throughout his career," catcher Ryan Hanigan told the Cincinnati Enquirer. "It's just a matter of consistency. He's such a competitor. He wants it bad. He works at it as hard anybody. He's got the stuff to do it."
He had the stuff Thursday as he shut down the 'Stros for six innings, whiffing seven and walking just one while giving up one run on four hits.
"Homer changed speeds well," Hanigan added. "He didn't fall into any patterns. That's what happened in the past. We talked about it before the game. He was throwing all his pitches for strikes. When he needed pitches, he made them. He made pitches down in the zone to get groundballs. He did a great job."
Bailey flashed an interesting trend, tossing 31 sliders for a 32.6 percent usage rate, far above his 11.6 percent rate in 2010 and 9.5 percent career rate. While that may prove a harbinger of things to come, it may only be temporary. Sometimes pitchers just simply click for one start and the hot hand is ridden. It doesn't appear as if the 25-year-old made any adjustments to his slider usage during his rehab starts as he admitted the frequency in which he tossed sliders were unique.
"I threw more sliders than I've ever thrown in my life," Bailey said. "I had that working pretty good. Pretty much we were in a good counts. There were only a few batters we fell behind. When you're ahead in the count good things are going to happen."
The Reds have no shortage of starting pitchers, even converting some to relief, but lack one true top-end starter. Edinson Volquez and Johnny Cueto have the talent, but haven't put it all together just yet. If Bailey keeps on improving, he could be the one to emerge as the ace.
For more baseball news, rumors and analysis, follow @cbssportsmlb on Twitter or subscribe to the RSS feed.