By Evan Brunell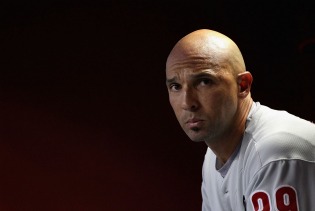 After Raul Ibanez started the season hot, he entered Tuesday mired in an epic slump, going hitless for his last 34. Leading up to Friday's game, he had added eight hits in 12 at-bats, homering for the second night in the row and just overall looking like the Ibanez of old. (Ibanez went 0-for-3 Friday with a strikeout.)
"He's got a shorter swing, a quicker bat, he's staying on the ball good," manager Charlie Manuel told the Philly News. "He's more selective. He's relaxed. And the biggest thing is, he's getting hits."
Yup, that's a pretty big thing.
"Just trying to do less really," Raul Ibanez added. "Just trying to stroke it and put an easy stroke on the ball. Usually it equates to more, but it's a tough concept to grasp sometimes. It's the opposite. Hitting can be counterintuitive sometimes. Sometimes you think swinging harder is better and it's not."
Ibanez so far still has a rough line on the year, checking in at .208/.276/.340. The Phillies are 10th in baseball in offense, which the team hasn't seen since prior to its World Series-winning days. (That's 2008.) They need Ibanez to show up and produce, especially in light of Chase Utley's injury that's knocked him out the entire season so far, as well as right-field maladies in trying to fill Jayson Werth's shoes.
For more baseball news, rumors and analysis, follow @cbssportsmlb on Twitter or subscribe to the RSS feed.