By Evan Brunell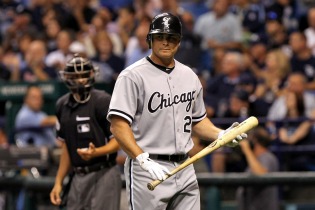 Ozzie Guillen is desperate to turn around the fortunes of the 11-22 White Sox, so backup infielder Mark Teahen has been playing third base with more frequency.
"[Teahen has] been great [with the glove]," Guillen said to the Chicago Sun-Times. "That's why he keeps playing. That's why he continues in the lineup and that's why I'm going to use him a little bit more. He's playing very well at third base."
Teahen (pictured), who doesn't quite boast a great bat but offers one good enough plus defensive versatility, has proved capable of manning the hot corner after losing the job to rookie Brent Morel. While Morel hasn't lost the gig, his .187/.197/.240 line in 77 plate appearances is enough to open up more playing time for the ex-Royal even though Teahen isn't exactly raking himself with a .234/.333/.340 line in 54 PA.
"I have a lot of confidence in this kid," Guillen said of Morel. "He's not hitting, well we only have two guys hitting and everybody else is struggling."
Even though Morel is Chicago's long-term answer at third base, the situation in Chicago is getting dire enough that a move may have to be made if Morel doesn't snap out of it soon. Yes, Guillen is right that no one else is hitting, but that's not an excuse to keep trotting out someone who is overmatched at the plate; Morel certainly fits that bill thus far.
For more baseball news, rumors and analysis, follow @cbssportsmlb on Twitter or subscribe to the RSS feed.