By Evan Brunell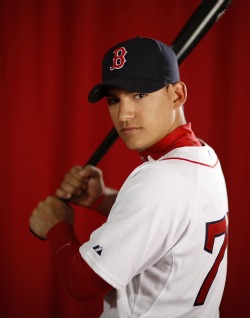 The Red Sox plan to call up top prospect Jose Iglesias, as Melissa Segura of Sports Illustrated reports.
At first blush, this is a panic move by Boston, but the Red Sox didn't have much leeway here. Marco Scutaro told reporters after Saturday's game that his left side bothered him Friday and became an issue in Saturday's 4-0 win over the Twins. There's no indication what his injury is, but Scoot went 2 for 3 before being yanked from the game with J.D. Drew pinch-hitting. It's difficult to imagine that manager Terry Francona would have pinch-hit Scutaro if he didn't have to. The pinch-hit appearance forced Boston to give up the DH so that Kevin Youkilis could take the field at third, with Jed Lowrie sliding over to short.
Down on the farm, Yamaico Navarro is injured himself with an oblique strain, otherwise he would have been the obvious promotion to replace Scutaro on Boston's bench. Navarro can play second, short and third (he also has made a few appearances in the outfield) and made his big-league debut last season for Boston. The other infielders in Nate Spears and Drew Sutton are not on the 40-man roster, so the Red Sox would have had to designate a player for assignment to promote one of the two, which is not an option at the moment. The Red Sox don't plan to make the move until Sunday as they will evaluate Scutaro first before making a decision.
The Cuban is considered to be Boston's long-term solution at short, but Iglesias has a putrid .229/.256/.229 mark in 88 plate appearances for the Triple-A Pawtucket Red Sox. Last season, the 21-year-old spent the majority of the year at Double-A where he hit .285/.315/.357, outperforming expectations before going down to injury. Iglesias' calling card is his defense, and if he delivers on the hype that has followed him since defecting to America on defense, the Red Sox will gladly live with any kind of offense he can give.
For more baseball news, rumors and analysis, follow @cbssportsmlb on Twitter or subscribe to the RSS feed.