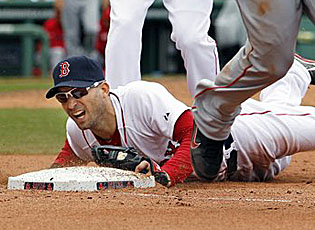 By Matt Snyder
The promotion of light-hitting yet slick-fielding prospect
Jose Iglesias
makes a lot more sense Sunday morning, as
Marco Scutaro
has been placed on the 15-day disabled list.
Red Sox
manager Terry Francona told reporters Scutaro is going to miss a good amount of time with an oblique injury (what else, right?).
"He's over getting get an MRI," Francona said. "His left oblique had been a little tender for a few days and after the rain delay [Saturday] he went back out, and I don't know the exact incident, it started grabbing at him, and actually started grabbing at him pretty good. Even knowing the MRI wasn't going to be till this morning, we know he's going to be down for a while with his symptoms so we got Iglesias here." (
WEEI.com
)
Don't expect to see Iglesias used as a regular, though. He's the backup to
Jed Lowrie
at shortstop and Francona has said he's only planning on using Iglesias as a late-inning defensive replacement or a pinch-runner. With good reason, because Iglesias is hitting .253 with zero extra base hits and a .278 OBP in Triple-A.
"I think we all think he's got a bright future here," Francona said. "I don't think right now is his time to be our starting shortstop." (
Clubhouse Insider
)
In other news,
Ken Rosenthal of Fox Sports reports
that the Red Sox have contacted
Bengie Molina
, but aren't yet ready to make a strong push. The reason is simple, they are not getting much from the behind the plate.
Jason Varitek
works well with the pitching staff, but he's one of the worst hitters in the majors at this point.
Jarrod Saltalamacchia
was supposed to take over catching duties this season, but he has been suspect defensively and hasn't been much better than Varitek at the plate (.203/.247/.275). The Red Sox seem to be constantly looking for ways to improve their catching situation, but there just isn't much out there at this point. Things should change when it gets closer to the trade deadline (a
Ryan Doumit
, perhaps?), but for now it appears they're stuck hoping Salty starts swinging the bat.
For more baseball news, rumors and analysis, follow @cbssportsmlb on Twitter or subscribe to the RSS feed.