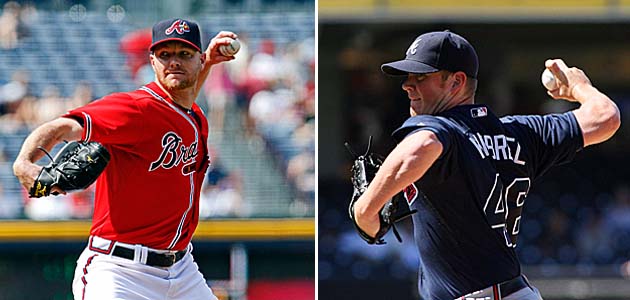 By Matt Snyder
While the national audience Sunday night didn't see the duo at their best, the
Braves
' promising young duo of
Craig Kimbrel
and
Jonny Venters
comprises the most dominant, intimidating and electric back-end of the bullpen in the majors. They already have a combination of stuff, swagger and statistics.
Venters, 26, has now thrown 101 2/3 innings in his career. He's allowed one home run (ONE!) and struck out 112 hitters. This season, he's thrown 18 2/3 innings and allowed just nine hits, two earned runs and four walks -- good for a 0.96 ERA and 0.70 WHIP.
Kimbrel, 22, has yet to allow a home run in his 36 1/3 career innings. He's only given up 18 hits, though, which is simply ridiculous. His lone issue is control, as he has walked 23 hitters, though he's drastically cut down on the rate this season, shelling out seven free passes in 15 2/3 innings. Kimbrel has struck out 62 hitters in those 36 1/3 career innings, a staggering total for a pitcher so young. He's got a 1.72 ERA this season and the mark is 0.99 in his career.
It's more than just numbers. These guys make opposing hitters look thoroughly baffled. Kimbrel's fastball-slider combo in particular is a thrill to watch, though Venters' stuff is nothing to ignore.
Perhaps the best way to illustrate the upside of Venters and Kimbrel is the relative obscurity of
Eric O'Flaherty
. The 26-year-old left-hander is also in the Braves' bullpen and he's got a 1.02 ERA and 1.08 WHIP in 17 2/3 innings this season. Due to the presence and greatness of Venters and Kimbrel, however, O'Flaherty is relegated to also-ran status. Just don't forget about him. That's a strong close, one that gives the Braves the ability to shorten games to six innings.
The question is, does anyone else have a backside trio better than the Braves' young guns?
The
Cubs
can make a good case.
Carlos Marmol
(1.72),
Sean Marshall
(0.64) and
Kerry Wood
(1.38) are their final three. With Wood aging and Marmol's inability to shake his control woes, I think I'd take the Braves for the long-term. With
Heath Bell
(1.29),
Mike Adams
(1.06) and
Chad Qualls
(2.50), the
Padres
have a great case, too. For this season, it's a tough call but I don't think you can definitely say the Braves' trio is worse than either of those. And it's a good bet either Bell or Adams (or both) aren't on the Padres come August.
If things broke the right way, the
Yankees
could have a case.
Mariano Rivera
is obvious,
Rafael Soriano
was arguably the best closer last season and we know the potential
Joba Chamberlain
has (had?). They aren't there now, though, not collectively.
The
Reds
have fireballer
Aroldis Chapman
and veteran closer
Francisco Cordero
.
Bill Bray
's sporting a 0.73 ERA in 12 1/3 innings, too.
If
Andrew Bailey
and Joey Devine come back healthy and round back into form, the A's will be in the mix.
Brian Wilson
and nearly any two others for the
Giants
are a solid top three, but not on level with the Braves' boys.
The
Indians
,
Marlins
and
Rays
have all done pretty stellar work thus far in the back-end, too, but you'll have to forgive me for not trusting the likes of
Tony Sipp
,
Randy Choate
and
Kyle Farnsworth
for the long haul in 2011 and beyond.
If you're looking for a trio of pitchers to shorten a game, there is none in the business better than O'Flaherty, Venters and Kimbrel. They're all 26 or younger and under team control for a while. They're only going to get better as confidence grows, assuming they stay healthy.
Put simply, games where the Braves take an early lead are going to be awfully short for opponents in the years to come.
For more baseball news, rumors and analysis, follow @cbssportsmlb on Twitter or subscribe to the RSS feed.