By Evan Brunell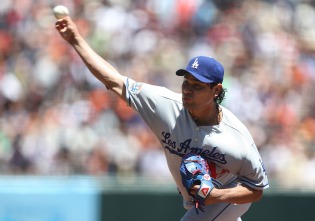 Jonathan Broxton may come back to a new job.
The closer hit the disabled list with arm problems after kicking the season off with a lousy start and may find himself supplanted by Vincente Padilla (pictured) in the interim.
Padilla notched his second save of the season on Sunday and could run away with the job if he keeps on racking up the saves.
"We'll see how it goes," Dodgers manager Don Mattingly told the Los Angeles Times. "Obviously, if Vicente comes in and is pitching well out of there, it's hard to just hand something over to somebody else. We'll cross that bridge when we get there."
Padilla had his own disabled-list stint earlier this year but has been solid in the early going as he has six strikeouts and three walks in seven innings, allowing four hits and two earned runs. Padilla is making the conversion from starting as he started 237 of 238 games from 2002-10. His first two years in the majors, however, were out of the bullpen and performed well in that role so once he gets into the groove of relieving, could deliver as closer.
Meanwhile, deposed closer Broxton could be out as long as six weeks as the Dodgers will be careful with his rehab. Broxton was one of the game's best closers before devolving into a liability in the second half last season, a trend that has continued so far. Even if Broxton ends up reclaiming his job, it will come by proving himself.
"Like everybody else, we try to get guys back in the mix [in nonpressure situations] before we start throwing them in tight situations," Mattingly said.
For more baseball news, rumors and analysis, follow@cbssportsmlb on Twitter or subscribe to the RSS feed.