By Matt Snyder
'OUT OF REASONS':
John Danks
is 0-6 this season and he can't figure it out.
"I'm out of reasons. I don't know. I've done the same thing I've done my whole career. I feel good. It's just not working out. I don't have any other way of putting it. But I'm back at it for my next start, whenever it is (May 17 against Texas). We'll go from there." (
Chicago Tribune
)
Could I make a suggestion? How about pitchers -- and the fans/media still clinging to the same notion -- quit acting like wins and losses are the defining individual pitching stat. Look at Danks' individual game logs. On opening day, he gave up two runs in six innings and lost. On April 13 he threw eight innings and allowed just one run and took a no-decision (there are guys with three or four wins who haven't had an outing this good). On April 19, he threw seven innings and gave up two runs, taking the loss. May 4, Danks worked eight innings and gave up three runs, taking the loss. Five of his eight starts have been quality starts. With better run support or bullpen help, he could easily be something like 4-3. Now, Tuesday night he was terrible, but that alone should be the discussion following the game, not how he's 0-6. That record alone suggests he's been terrible all season, but that couldn't be further from the truth.
FREE SPEECH?
Pirates
prospect Tony Sanchez is in trouble over a tweet he sent Monday night, where he complained about the umpiring -- even suggesting they decided "to blow a game." Obviously, Eastern League officials weren't too happy about the suggestion the umpires purposely changed an outcome. Sanchez ended up apologizing. (
Hardball Talk
) Much time has been spent discussing how athletes -- and, really, anyone -- should be careful when going to Twitter while emotional about anything. You're sending your thoughts to everyone who wants to see. That's not always a great idea. But what bothers me more than anything in these discussions is how few peolpe actually understand what "freedom of speech" means. The First Amendment begins, "Congress shall make no law." So you can't be punished by the legal system for speech. You most certainly can get fined, suspended or fired in any profession for something you say.
SPEAKING OF SOCIAL MEDIA:
Jeff Sullivan over at SB Nation
takes a look at the presence all major-league teams have on Facebook and Twitter. All use both outlets, but the numbers of fans vary and could correlate to how well the social media department of each franchise is run.
HUNTER UPDATE:
Monday
we passed along the news
that
Tommy Hunter
of the
Rangers
had re-injured his groin. The good news now is that the strain is less severe and he'll only be set back about two to three weeks in his rehab. "I was more upset [Monday]," Hunter said. "It might just be scar tissue. It was just a little tweak. It's just a little setback." (
Star-Telegram.com
)
HUGHES UPDATE:
Injured
Yankees
' starting pitcher
Phil Hughes
is expected to start a throwing program Thursday and could return in six to eight weeks. (
MLB.com
via Twitter) It will be interesting to track his progress, namely the great velocity question.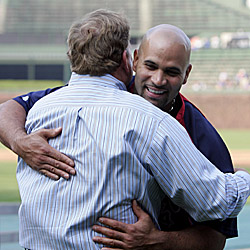 AN INNOCENT EMBRACE:
If
Albert Pujols
does leave the
Cardinals
at the end of the year as a free agent, one major player for his services moving forward will most certainly be the
Cubs
. They lack power, will have an opening at first base and have about $50 million coming off the payroll before 2011. So, of course, when Cubs general manager and Pujols hugged before the Cubs-Cardinals game Tuesday night (look right for the evidence), it set off a media/social media firestorm.
See, look, he's recruiting him already!
Hendry, of course, said there was nothing to it.
"I can't win. I like Albert. We've always gotten along. He's a great, great player. I admire the heck out of him. He plays the game the right way every day," Hendry said, also noting he hugged former Cub
Ryan Theriot
, too. (
CSN Chicago
)
Pujols went out and had a 4-5 day as the Cardinals won.
BEST STUFF:
What pitcher in baseball has the best pure stuff? Not who is the best or who has the best control, but the best arsenal of pitches that can baffle hitters.
Fangraphs.com
uses the criteria of "velocity, movement, intent and simply how hard it is for opposing hitters (of all types) to produce against what they're thrown" to determine
Felix Hernandez
has the best stuff. A healthy
Ubaldo Jimenez
,
Roy Halladay
,
Tim Lincecum
and
Justin Verlander
round out the top five.
SLOW STARTER:
Mat Latos
was lights-out for a stretch last season. In fact, he was one of the best pitchers in baseball. From May 7-Sept. 7, Latos was 13-2 with a 1.58 ERA, 0.78 WHIP and 153 strikeouts in 136 1/3 innings. He did finish quite poorly and has started this season off poorly as well, so maybe that's why it's easy to forget last season he started out pretty poorly as well, as he took a 6.20 ERA into May.
SignonSanDiego.com
points out it's possible Latos is simply a slow starter and wore down late last season.
BEHIND THE DISH DEFENSE:
There are lots of defensive metrics out there for defense in the field, such as range factor and zone rating. It's a bit tougher to judge catchers with stats, though, considering range doesn't factor in. They're parked behind the plate. Of course many have come up with methods over the years, and the thoughtful boys over at
Beyond the Box Score
have come up with their own methodology based upon tweaking parts of other metrics. So, in terms of saving runs for his team, the best defensive catcher so far in 2011 has been ...
Matt Wieters
. Of the 75 they ranked,
Josh Thole
was last. Interestingly,
Yadier Molina
-- who is hyped by many as a great defensive catcher -- checks in at No. 62, just ahead of
Jake Fox
and
Ryan Doumit
while trailing
Mike Napoli
. Small sample size? Maybe.
THE LEMONADE GUY:
I had no idea who Kenny Geidel was before he passed away earlier this week, but apparently he was known to Pirates' fans as simply "the lemonade guy" and was pretty beloved.
Big League Stew put together a tribute
to the popular vendor.
For more baseball news, rumors and analysis, follow @cbssportsmlb on Twitter or subscribe to the RSS feed.