By Evan Brunell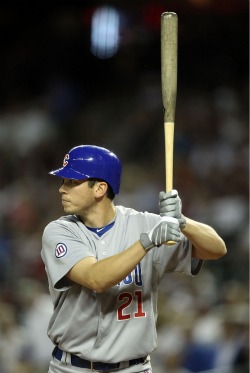 Tyler Colvin
was able to grab 394 plate appearances last season and had no shortage of playing time in the early going.
Not so this year, as he has just 68 plate appearances, with just 11 at-bats in May and has struggled to the tune of a .113/.191/.258 line.
"It's been awful for Tyler,"
Cubs
manager Mike Quade noted to
MLB.com
. Colvin has lost playing time due to the hot start of
Kosuke Fukudome
, and
Alfonso Soriano
has made it hard for Quade to justify giving him a day off as well. Plus, the Cubs' necessity in getting
Carlos Pena
out of his slump has forced them to trot out his name at first base as much as possible. Oh, and Colvin's competition off the bench for outfield at-bats is scorching hot.
"I haven't been able to find as many [at-bats for him] as I want," Quade said. "Other people are as responsible for that as Tyler. He's struggled for sure, but with our outfield playing the way it is, I've got a guy sitting on the bench who's tearing it up right now in
Reed Johnson
. [Colvin] understands his role as a bench guy but you want to keep him involved as well."
What's the solution?
It could mean a trip to the minors.
"We need to get him involved some way, somehow, and that's been on my mind the last few days," Quade said when asked if Colvin could be sent to Triple-A. "We'll see how this homestand plays out and take a look at that.
"It's a heck of a balance every day to try to keep [Colvin] involved and get him to where he was last year and contribute on that level," Quade added. "You're also trying to win ballgames and do justice to the other guys who are hitting. It's the worst part of my day [trying to determine what to do with Colvin]. The five guys who aren't playing bother me more than anybody else. That's been a really tough situation for Tyler."
For more baseball news, rumors and analysis, follow @cbssportsmlb on Twitter or subscribe to the RSS feed.