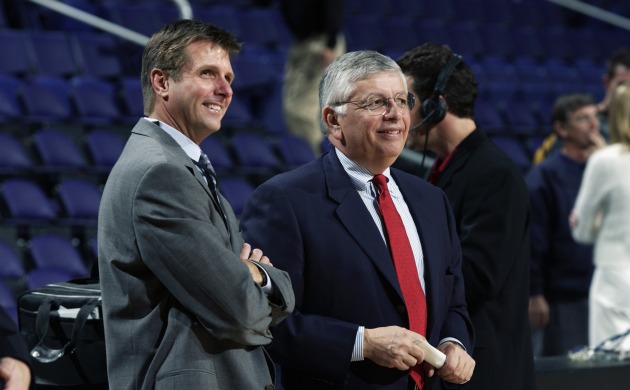 By Evan Brunell
On Sunday, basketball's Rick Welts revealed to the
New York Times
that he was gay, becoming the first man in sports with a high-profile job to admit his homosexuality. Welts currently serves as team president of the Phoenix Suns, whose star player, Steve Nash, had already assumed everyone knew Welts was gay.
Basketball commissioner David Stern (pictured, right, with Welts in 2003) was similarly supportive, saying he hoped "the world will find this [admission] unremarkable."
Unfortunately, sports is one of the few places left where such an admission is remarkable, trailing even the military. "This is one of the last industries where the subject is off limits," Welts said. "Nobody's comfortable in engaging in a conversation." Well, now Welts has taken matters in his own hands with his admission, saying he wants the silence over homosexuality in sports to end, and he wants to be a mentor to gay people who are concerned about pursuing a career in sports.
Homosexuality in sports is still a sensitive issue, and baseball is no exception. There are only two notable baseball players who have come out as gay in
Billy Bean
(not to be confused with Oakland A's general manager Billy Beane) and
Glenn Burke
and they haven't played in the majors in a long time and only came out after they were done playing baseball. In addition, they were never commanding of media attention, so while their coming out was and remains courageous, it was not significant from a baseball perspective.
Boston Herald columnist Steve Buckley outed himself
in a column this past January, and again, while courageous, it did not have a major impact on baseball. No, what will have a major impact on baseball is a player, manager, GM or president coming out. That's what it's going to take, and Welts blazing the trail could spur others to come out.
"This really is a huge milestone," an openly gay baseball fan told CBSSports.com. "I think that the heterosexism -- that is, the presumption of and pseudo-requirement to be straight, is particularly stifling in mens's sports."
It's very difficult for a man to come out publicly gay in men's team sports, as these sports are saturated with highly competitive, testosterone-drenched (some very much so thanks to performance-enhancers) players who have spent their entire careers in locker rooms. It's no wonder, then, that players would hesitate to out themselves and open themselves to derision and perhaps worse. Managers, too, are intimately involved with players and still have their own playing careers, however abbreviated, fresh in their minds while executives like GMs and presidents do have some measure of separation. (That's not to make light of Welts' coming out, which remains historically significant.)
Another effect that acceptance of homosexuality could engender is increased interest in sports by these millions of open and closeted homosexuals. That could increase revenue.
"I already feel disconnected from the straight community because I'm different," the fan said. "If I felt like I were accepted, it would bring me that much closer to the game and the people and I'd see them more as like me, than not like me. As a confident, out gay man, I don't particularly need to see an openness to homosexuality to support the game. But that's now. I would likely have been a fan much sooner if I felt like being gay was OK."
Make no mistake about it, though: baseball and sports should not become more accepting of homosexuality for profit-driven purposes. Rather, the point is being made that the game could be organically grown by simply becoming more accepting of those who are different. After all, if baseball continued to resist African-Americans, the game would not be around today, especially as Hispanic players continue to grow in numbers and have become an important part of the game's fabric along with African-American and Asian players. It's time for homosexual men to join that diversity.
While one definitely shouldn't consider Carl Everett representative of baseball players as a whole given his outrageous comments on many different topics, he highlighted the mountain yet to climb in terms of acceptance in baseball. Back in 2005, the ex-White Sox outfielder opined on homosexuality, saying that "Gays being gay is wrong. Two women can't produce a baby, two men can't produce a baby, so it's not how it's supposed to be. ... I don't believe in gay marriages. I don't believe in being gay." (In Everett's defense, he says he has had gay teammates and accepted it. Still, the comments were the one made public and are what people remember.)
Welts' coming out is the first step toward sports becoming more and more openly accepting of homosexuality, which could make a major difference in the lives of many, especially young children and teenagers who have seen a rash of bullying cause suicides. That's sparked an advertising program titled "
It Gets Better
," to tell these children that it indeed gets better. Everyone already struggles with self-identity and acceptance in the crucial formative years, and adding trying to be accepted as homosexual is another layer that can make lives unbearable.
"As role models for millions, the coming out of players and others in sports can have huge lasting effects on confidence, and of course teaching people bullying is not OK is critical," the fan added. "It really boils down to this: If someone can come out, and in that environment, then I can too, and that's a powerful thing."
For more baseball news, rumors and analysis, follow @cbssportsmlb on Twitter or subscribe to the RSS feed.