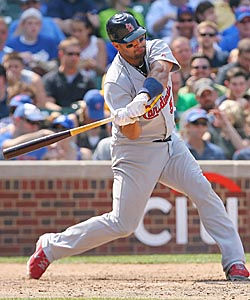 By Matt Snyder
Tuesday night,
Cardinals
superstar
Albert Pujols
went through his 22nd consecutive game without a home run. For most players, this wouldn't be a huge deal, but for Pujols it's now equaled the longest streak of his career (
StLtoday.com
). In fact, he's having the worst season of his career and it's not even close.
It's a staggering reality, considering Pujols is on pace to hit 27 home runs with 92 RBI, 104 runs and a .337 on-base percentage. His OPS-plus is still 111. That's a career year for many players -- especially with offensive numbers down across the board in the bigs these past two seasons.
It's just that he's freaking Albert Pujols. Only twice has his OPS been below 1.000 and his lowest mark ever was .955. This year it's .758. His career-low in home runs is 32 and he's never driven in less than 103 runs. His lowest batting average ever was .312. This season it's .269. He does lead the majors in one category, though, as he's grounded into an MLB-high 13 double plays.
At 43 games in, can we really still cry small sample? Or is there really something wrong with Pujols? With free agency looming and a potential standoff with the only team he's ever known, is that an issue?
On the last question, I'm still saying no. He's been around long enough to prove he's one of the most mentally tough players in the game and the fact that he's never had a streak of more than 22 games without a home run is a testament to his ability to block out mental factors.
I do think 43 games is still a relatively small sample, but it's enough to look at the numbers and see what's going on. It's not exactly a two-week slump. What's going on is pretty obvious: Pujols is pounding the ball into the ground and when he does hit it in the air, it's not with as much authority as in the past. He's only hit 40.8 percent of his batted balls on the ground in his career, but this season it's up to 50.7 percent. That's a huge jump for a 10-year veteran. His percentage of balls in the air is obviously down, but his HR/FB percentage is only 13.5. He's usually around 20 percent. As a result, his batting average on balls in play is down about 50 points from where it usually is. His walk rate is down, but that actually makes sense with
Matt Holliday
and
Lance Berkman
killing the ball behind him.
To put it all in layman's terms: Pujols has not had good fortune on balls he's putting in play and is not hitting for as much power as he's accustomed. That stuff should even out over the course of 162 games, as long as he's healthy and mentally right. Some really small tweaks in his swing might be needed in the way of the ground-ball problem, but I trust that will happen in due time.
The lack of pop could be due to him pressing about the contract or simply pressing now because he got off to a slow start and wants to break out of it. Either way, games like Tuesday night -- when he went 3-5 with a double -- are what will get him on track. Another game or two like this, especially if there's a home run involved, and I'd put the rest of baseball on notice. He'd be ready to bust out in a big way.
If I was forced to make a prediction, it's that a hot streak is coming very soon and he'll finish with a run-of-the-mill year ...
for him
. That means he's going to hit about .300 with a 1.000ish OPS, a mid-30s home run total and over 100 runs and RBI.
For more baseball news, rumors and analysis, follow @cbssportsmlb on Twitter or subscribe to the RSS feed.