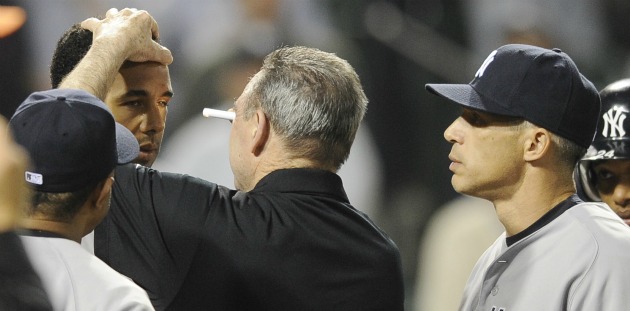 By C. Trent Rosecrans
This is not to diminish what happened to
Chris Dickerson
-- it was scary and I surely hope Dickerson is OK -- but the story to me is how home plate umpire Dan Bellino overreacted and tossed pitcher
Mike Gonzalez
.
Gonzalez had just given up the lead on a two-run double by Robinson Cano and then a 93 mph fastball got away from Gonzalez and hit Dickerson in what appeared to be the helmet. The ball reportedly cracked the helmet and was taken to a Baltimore hospital to be examined.
Dickerson had a welt on his left temple and was replaced by pinch runner A.J. Burnett, but the Orioles had to get another pitcher up and use Jeremy Guthrie -- Thursday's scheduled starter -- to clean up the mess. He allowed a sacrifice fly and then got two more outs to end the inning with the Yankees leading 4-1 in the 15th inning.
There was no reason to toss Gonzalez. The former Pirates closer was held out of the game until the 15th inning for a reason -- he's been horrible this season, allowing 19 hits in 12 2/3 innings and has an ERA of 8.53. Gonzalez later told reporters he'd tried to throw the ball low and away and it got away from him. With a runner on third in an extra-inning game and no outs, there was no reason for him to try to throw at Dickerson, who just came up from the minor leagues on Tuesday. Bellino just saw a batter on the ground and perhaps a scary injury and tossed the pitcher without giving proper thought.

"It was kind of shocking," Gonzalez told the New York Times. "I hit him, and obviously I get thrown out. I was more worried about how he was doing down there. You see a player go down like that, obviously in the head area, I really wasn't sure if he threw me out. First of all, I didn't understand why, and second of all, Dickerson's down there on the ground. That's the last thing you want to see."

Gonzalez said he didn't argue because he didn't think that would be right with Dickerson on the ground -- a classy move on his part.

Bellino wouldn't talk to the Times reporter, but crew chief Brian Gorman said Bellino tossed Gonzalez because he thought it was intentional -- a conclussion with no supporting evidence other than the body.

Orioles manager Buck Showalter was not happy, according to MASNsports.com's Roch Kubatko: "First of all, you take a deep breath. Regardless of what decision that umpire makes, a young umpire just starting out in the major leagues, you've got a guy laying on the ground and you don't know how seriously he's hurt, and I have a lot of concerns for that. I'm not going to go out there and vehemently argue while a guy's laying on the ground, potentially a real tough situation physically."
In the interesting subplot that seems to come up in these extra-long games, the Yankees were forced to shuffle their lineup more to make up for the loss of Dickerson. Eduardo Nunez moved from shortstop to right field and Derek Jeter to abandoned the designated hitter to play shortstop.

Meanwhile, Showalter said he may start Brad Bergesen to start Thursday night against the Yankees. Baltimore was rained out on Tuesday, giving Showalter some flexibility with his rotation.
For more baseball news, rumors and analysis, follow @cbssportsmlb on Twitter or subscribe to the RSS feed.