By C. Trent Rosecrans
It seems pretty sure this is Jorge Posada's last season as a Yankee, and maybe as a big leaguer. But could his career be over before the end of the season?
According to ESPNNewYork.com's Andrew Marchand, the Yankees are weighing their options on Posda. Although his source, "a baseball official with knowledge of the Yankees' thinking" said the team has had "zero discussion" about releasing Posada since his mea culpa over his argument with manager Joe Girardi, but that could change if he doesn't start hitting.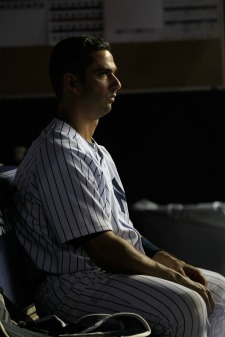 Posada, who didn't play in Wednesday's 15-inning victory over the Orioles, is hitting .179/.287/.366 with six home runs and 15 RBI this season.
As it stands, Posada is just a platoon DH who isn't doing much H. Against a left-handed starter on Wednesday, Girardi once again decided to sit the switch-hitting Posada, who is 0 for 24 as a right-handed batter this season.
The team does have über-prospect Jesus Montero waiting in Triple-A, where he's hitting well, but not great. Montero is hitting .318/.350/.417 for the Scranton/Wilkes-Barre Yankees, but has just six walks and two home runs. His May has been worse than his April in all three of the slash categories -- hitting .365/.360/.473 in April and .259/.338/.345 in May. If Montero were putting up Eric Hosmer-like numbers, it could make the Posada decision easier, but at this point, you don't know what you'll get from the 21-year old Montero, who still needs work in the minor leagues on defense.
Say by midseason, this could work itself out if Posada rebounds. But if he doesn't, well, it could be very interesting. If he's still hitting below the Mendoza line, his time in baseball could be short.
What's also interesting is that according to a report from Mark Feinsand of the New York Daily News, Posada and Girardi's bad blood goes deeper than just the recent disagreement of where Posada should bat in the lineup. The report says the two have had issues since 2005 when Girardi was Joe Torre's bench coach and the two clashed over scouting reports.
"Girardi couldn't wait to get him out from behind the plate," the source told Feinsand. "He hated the way he called the game."
Feinsand's source added Posada didn't think much of Girardi's scouting reports while he was the team's bench coach, often deviating from Girardi's plans, while he felt he was being second-guessed by Girardi.
On Monday, Girardi stressed he and Posada have a good relationship, but sometimes these things go deep (like maybe even as far as 1998 when Posada beat out Girardi for the Yankees' catching job) and aren't patched up by a simple apology.
While the lineup flap and Posada's complaints (followed by an apology) have passed, the question of what to do with Posada is just starting.
For more baseball news, rumors and analysis, follow @cbssportsmlb on Twitter or subscribe to the RSS feed.