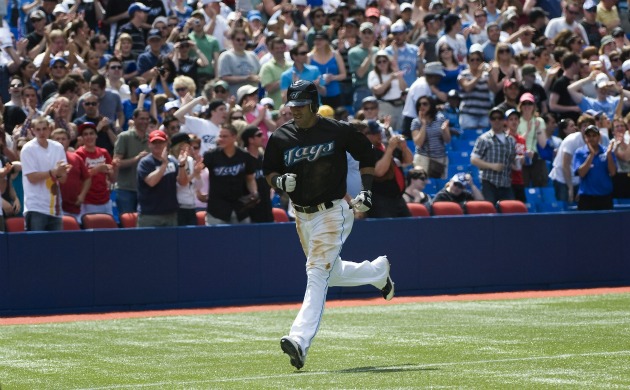 By Evan Brunell
3 UP

Joel Hanrahan, Pirates
-- Hanrahan nailed down his 13th save by getting through some pressure. He entered the game with two runners on base and no outs in the ninth for the
Tigers
.
Brandon Inge
singled, then Hanrahan bounced back to strike out a batter and induce a double play. His ERA drops to 1.66, and it's kind of obvious at this point, especially with
Evan Meek
's poor season, that the Pirates made the right choice picking Hanrahan to close.
Tim Lincecum, Giants
-- Lincecum is appointment viewing. He is one of the greatest pitchers we will ever see pitch in our lifetimes regardless of career timespan, and that was on display Saturday. The Freak went the distance, scattering three hits amongst six strikeouts and no walks, dropping his ERA to 2.06 and inserting himself into the NL ERA leaderboard discussion. Lincecum is able to chew up a lot of innings but is entering crazy-workhorse phase as he's pacing for 252 innings pitched. If he reaches his projections (which is a lot to ask to keep up that kind of sustained dominance), that leaves him with 270 strikeouts. That's, uh, a lot. It's doubtful Lincecum will hit these numbers, but the scary thing is... well, I'm not discounting that he'll hit those numbers.
Jose Bautista, Blue Jays
-- What more can you say at this point? Even Bautista himself admits it's ridiculous. "It's always a surprise when you keep hitting home runs," Bautista told the Associated Press. "I'm not surprised about the RBIs or the fact that I'm playing well. Given what happened last year, knowing what I feel like I'm capable of doing, I expected to perform at a high level. I'm doing probably a little bit better than I expected." You think? Bautista blasted two home runs, driving in four with a 3-for-4 night to obliterate the
Astros
. He's swelled to a 65-homer pace through 133 games. Um, they should totally play him more. And they will, so... am I really making the leap that Bautista could potentially take down Barry Bonds? Like with Lincecum... probably not. But we've already reached ridiculous proportions with Bautista, so why not some more?
3 DOWNMatt Albers, Red Sox
-- Albers blew it completely for the Red Sox as the seventh-inning-guy (the setup man's assistant, basically) gave up six runs, five earned with just three hits allowed in zero innings. Yep, no out recorded during this mess that also saw two walks. Albers entered the eighth inning with the Sox up 3-1. The game was in control, so manager Terry Francona decided to use the setup man's assistant in the setup role. But
Daniel Bard
hadn't pitched since Thursday. The Red Sox had been lucky up to that point, getting five innings from
Alfredo Aceves
in a spot start with one run earned. Then,
Dan Wheeler
went 1 1/3 strong, showing that he may be ready to contribute now that he's healed from his injury.
Rich Hill
, the sidearming lefty, got two strikeouts (albeit with a hit allowed) and that set up for an easy Bard-to-Papelbon finish. But instead, Albers. At least the Red Sox got to take a look at new reliever
Franklin Morales
, who was intriguing enough in his two innings of relief.
Jon Garland, Dodgers
-- Garland didn't do well against his former team, giving up seven runs and 11 hits in 3 2/3 innings. With just one walk allowed and two whiffs, it's clear nothing was working for him. Garland was pretty decent in his previous five starts, with one other hiccup coming on April 15, when he made his first start. The kind of pitcher he is, he still has a few clunkers in store.
Adan Dunn, White Sox
-- Alexi Ramirez,
Paul Konerko
and
A.J. Pierzynski
all had nice days against Garland.
Adam Dunn
missed on the fun with four strikeouts and a walk. He struck out swinging in the first with a man on second, to end the third with none on, walked to load the bases in the bottom fourth in a sequence that would eventually see a run scored, whiffing in the sixth with men on first and second and another in the bottom eighth with a man on second. On one hand, nice to work that walk and contribute in a way that Adam Dunn is known for. But that other stuff he's known for was quite prominent on the day.
For more baseball news, rumors and analysis, follow @cbssportsmlb on Twitter or subscribe to the RSS feed.