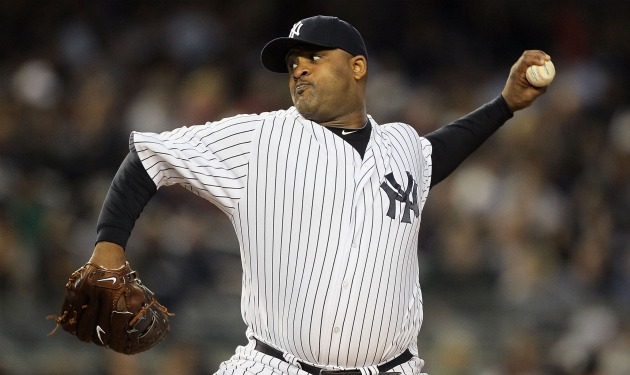 By Evan Brunell
The opt-out clause in
CC Sabathia
's contract will kick in after the season, giving Sabathia a chance to hit the free-agent market and potentially leave New York.
Don't bet on Sabathia actually leaving New York, as he's made his home in the city and is the "heart of this team," as one Yankee put it to
SI.com's Jon Heyman
. Exercising that opt-out clause, though?
That's "100 percent" happening, a competing AL executive said.
"It was negotiated into the deal,'' another AL executive added. 'It would make no sense not to take advantage of it.''
At the crux of this issue is Sabatha's remaining contract after 2011, which is a four-year, $92 million commitment. Meanwhile,
Cliff Lee
, two years older than Sabathia, had a seven-year, $148 million offer on the table from the
Yankees
in the offseason. Why wouldn't Sabathia want to lock into that type of payday? There's no sense in him waiting another four years -- especially if he wants to stay in New York -- because the volatility of pitchers demand that you lock in guaranteed money when you can.
Sabathia, for his part, has constantly deferred questions about his clause, even going so far as to give the impression that he wouldn't use the opt-out clause. Let's be clear for a moment: Sabathia will opt out. There's no reason for him not to, unless he suffers some type of devastating injury between now and the day he files for free agency. He will be at zero risk for losing money and will have the Yankees in a tough bind, who already have significant concerns about their rotation and an unimpressive free agent market for starting pitchers. Japanese sensation Yu Darvish is expected to come stateside, while Texas lefty
C.J. Wilson
will also be available. Um, that's about it.
Sabathia recently said he hoped that the Yankees would give him two or three extra years, the most obvious indication yet that Sabathia will seek a new contract for at least six or seven years' length.
For more baseball news, rumors and analysis, follow @cbssportsmlb on Twitter or subscribe to the RSS feed.