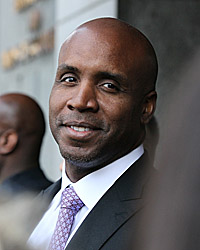 By Matt Snyder
Often the target of venom, be it from media, fans or both, Barry Bonds is rarely presented in a positive light anymore. So let's switch things up a bit here and talk him up for a second: Bonds is reportedly going to pay for both of Bryan Stow's children to attend college (
NBC Bay Area
).
Stow is the 42-year-old man who was beaten severely on opening day by some
Dodgers
fans simply because he was a
Giants
fan. He was jumped from behind and is still in critical condition, in a medically induced coma. Stow is a single father, with a son and a daughter each in elementary school.
Now, the skeptics out there will surely swipe at Bonds and say he's just trying to garner some positive attention, but the news didn't come from Bonds. In fact, it was the attorney who represents Stow's family who passed along Bonds' gesture. Bonds actually visited Stow in the hospital on April 22 and spent an hour in the room, signing a baseball bat for Stow's two kids.
Let us tip our cap to Mr. Bonds for the generous gesture and continue to hope that Stow will pull through as best he can.
For more baseball news, rumors and analysis, follow @cbssportsmlb on Twitter or subscribe to the RSS feed.