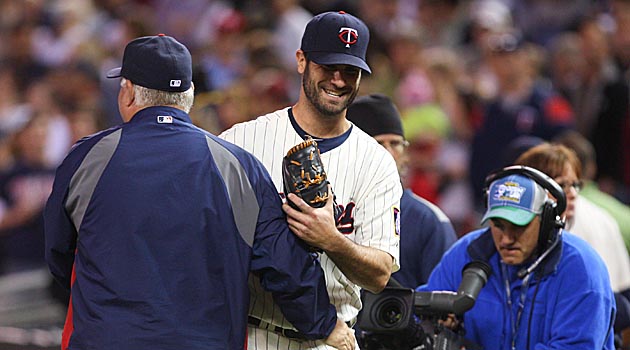 By Matt Snyder
On a night that featured marquee pitching names like
Justin Verlander
,
Dan Haren
,
Josh Beckett
,
CC Sabathia
,
Matt Cain
and
Jake Peavy
, we've got a 3 Up that features ... none of them.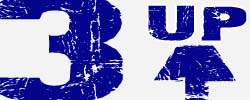 Nick Blackburn, Twins.
As noted in
On Deck
, the Twins were in danger of tying a franchise record in consecutive home losses -- matching a team that wasn't even in Minnesota or called the Twins. Against the red-hot
Mariners
(which just sounds weird, but they had won six in a row), Blackburn went out and spun a complete-game gem. He gave up seven hits and two earned runs while striking out six. He needed 127 pitches, but most importantly finished the game himself -- a huge deal with the way the back-end of the bullpen has been unreliable this season. This was a case of a pitcher going out and taking matters into his own hands to stop a losing streak.
Guillermo Moscoso, A's.
So, let's see ... one of baseball's elite pitchers vs. a pretty terrible offense ... and on the other side? A man making his first big-league start who had a 4.02 minor-league ERA prior to Tuesday. Who wins? This is why baseball is awesome. Of course Moscoso held the
Angels
scoreless on just three hits in six innings of work while Dan Haren coughed up five earned runs in seven innings against the American League's 13th-ranked offense.
Ricky Nolasco, Marlins.
Obviously, Nolasco is a bit more established than the two hurlers listed above, but his outing in these circumstances was very solid. The Marlins had lost three of their last five and have seen ace
Josh Johnson
hit the disabled list. They were facing the defending world champs, who had recently regained their mojo in a five-game winning streak and were running out their formidable No. 2 starter in Cain. Also, while Nolasco has been good, he hasn't been great this season. Tuesday night, however, Nolasco was great for eight innings. He took a five-hit shutout into the ninth inning. Sure, things unraveled a bit in the ninth and
Leo Nunez
was needed for the save, but Nolasco still let the rest of the bullpen rest and put forth a big effort for the Marlins. They also again moved to within a game of first place in the NL East.
---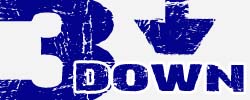 The New York Mets.
So the players spent the entire day answering questions in Wrigley Field's cramped locker room about their loose-lipped owner. So what? Professional players wouldn't allow that to effect performance, right? Tuesday night, the Mets did their best to disprove that. They lost 11-1 to a
Cubs
team that has had trouble scoring runs.
Jonathon Niese
gave up six runs, but only two were earned thanks to an embarrassing display by
Ruben Tejada
,
Ronny Paulino
and company in the second inning. Still, Mets' pitchers in all allowed 13 hits and six earned runs. Meanwhile, the offense was stymied for seven innings by a pitcher (
Ryan Dempster
) who entered the game with a 6.91 ERA in 56 innings.
Jason Bay
left the game with an injury, too. The Mets have now lost three in a row after hitting .500 and look closer than ever to a firesale. Between the injuries and the ownership situation, it's hard to not feel sorry for Mets fans.
Nationals' bullpen.
Monday night, the Nationals' bullpen let the game get away from itself, allowing four runs in three innings. Tuesday, it blew the game, again allowing four runs in three innings. This time around it was worse, of course, because the Nats actually had a lead before the implosion. They've now lost four in a row and six of seven.
Ryan Madson, Phillies.
Everyone has bad nights. Just in case we'd forgotten, Madson went out and proved it Tuesday night. The right-hander entered the game with nine saves, two wins, a 0.47 ERA, 23 strikeouts in 19 innings and about as few blemishes as you could possibly have at this point in the season. Tuesday night he was tagged with three earned runs and the loss. The funny thing was, he gave up two infield hits and an intentional walk to load the bases. You can't much blame a pitcher for that. But the big blow -- a rocket of a double by
Jay Bruce
-- was certainly Madson's fault. And though Bruce entered the game scorching hot, he was 0-4 with three strikeouts before the at-bat Tuesday. So we'll say this outing by Madson was a tad bit understandable, but not good.
For more baseball news, rumors and analysis, follow @cbssportsmlb on Twitter or subscribe to the RSS feed.