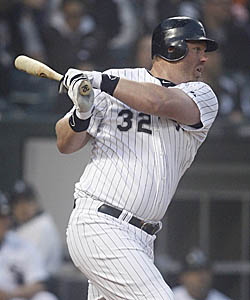 By Matt Snyder
Just over a week after saying he would leave
Adam Dunn
in the three-hole,
White Sox
manager Ozzie Guillen has now dropped Dunn to seventh in the batting order. It's pretty tough to blame him, from a certain point of view.
Dunn is hitting .186 with an incredible 65 strikeouts in 156 at-bats. He's only hit five home runs. Even his traditionally-high on-base percentage is a sub-par .314.
The flip-side, however, is that Dunn has been one of the most consistent power hitters of the past decade. Scoff if you will -- there's a stigma that comes with Dunn because of his high-strikeout, low-batting average rates -- but here are his home run totals from the past seven seasons: 46, 40, 40, 40, 40, 38, 38. He reached 100 RBI in six of those seasons, his OBP was .381 and OPS was .914. He also never played less than 152 games in a season. That's a really productive offensive player.
So, if you're Guillen, you have to expect Dunn to start hitting well any day now. There's just no reason to believe he's cooked at 31. Sure, he switched leagues, but any drop off shouldn't have been this drastic. It's just that if you leave him in the third spot of the lineup and he continues to pump out four-strikeout games, it's killing your team.
This situation is a good illustration of a very tough job for managers. Figuring out how to approach a guy in a huge slump is a delicate business. No matter what action is taken, there are lots of possible negative consequences.
Lineup movement happens a lot. The
Marlins
have moved
Hanley Ramirez
to second. The
Red Sox
dropped
Carl Crawford
to eighth -- and he's absolutely going off this week, finally.
Sometimes the DH is used. The White Sox have started to play Adam Dunn at first more often, in case playing defense keeps him more into the game. On the opposite end, the
Yankees
have used
Derek Jeter
at DH three times.
Do you start benching the guy? The
Indians
started
Carlos Santana
behind the plate only once in the three-game series against the Red Sox. Sometimes that helps to clear a player's head, but sometimes he becomes worried the manager has lost confidence in him and becomes a headcase. Look at the
Jorge Posada
situation in New York.
What about doing things out of the ordinary, strategically? Getting the hit-and-run sign could help. If a hitter knows he
has
to swing at the pitch, there's a big hole in the infield and he ends up making good contact for a base hit, sometimes that's the only mental boost he needs. The Marlins made an interesting decision with Ramirez Tuesday night. With a four-run lead in the top of the ninth, they had him lay down a sacrifice bunt. I actually have no idea how this will help him break out of a slump, but I guess they're breaking out all the stops.
Or you could just leave the guy alone. Charlie Manuel essentially did this with
Raul Ibanez
. He rarely sat out and only bounced between fifth and sixth in the order. Now Ibanez has gotten hot after a pretty sizable slump.
Most any blogger will tell you that the managers should just relax and wait for a regression to the mean. I understand that, but it's pretty easily said for a guy behind a computer whose job doesn't depend on wins and losses. Each win is precious, and the managers need players like Crawford, Ramirez, Dunn, Jeter, Ibanez and Santana to hit the ball. The longer they go before breaking out of a slump, the more chances there are the team loses more games. The longer the managers stick with the struggling big hitter in a major lineup spot, the more risk there is of leaving the table-setters on base multiple times every game. Dropping the hitter in the lineup or benching him might mean missed opportunities to break out of the slump, too.
It's quite the juggling act, and there is no one proven method that maximizes results -- probably because the mentality of hitting a baseball is immeasurable. It's pretty difficult to blame managers for trying to be proactive instead of just sitting back. Not when their job is constantly on the line.
For more baseball news, rumors and analysis, follow @cbssportsmlb on Twitter or subscribe to the RSS feed.