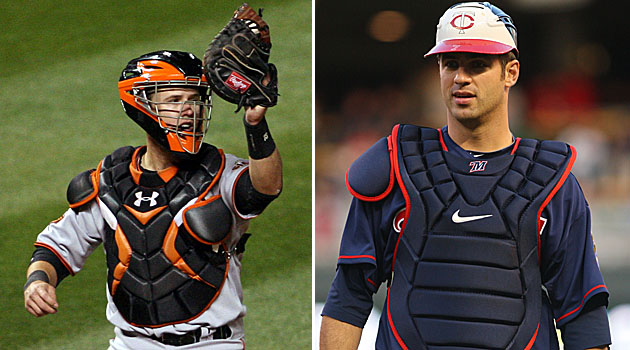 By Matt Snyder
As
Joe Mauer
continued to try and work himself back into game shape this past week,
Buster Posey
went down with a likely season-ending injury. Not far away are discussions of when and where each should be moved on the diamond to limit the injury risk in future years. The narrative is that they're more important offensively than defensively to their respective ballclubs, so it would behoove both the player and the team to make a change.
But here's why it doesn't: The offense provided by Mauer and Posey isn't near as valuable at a different position. They are elite sluggers when their peers are the other catchers in baseball. But what if Posey was a first baseman and Mauer was moved to the outfield (since
Justin Morneau
is entrenched at first)?
Here are the arguably five best hitting catchers in baseball: Mauer, Posey,
Carlos Santana
,
Victor Martinez
(even though he mostly DH's) and
Brian McCann
. That's in no particular order, but it's apparent that Mauer and Posey blend in nicely, if not fill the top two spots.
Here are arguably the
10
best hitting first basemen:
Albert Pujols
,
Miguel Cabrera
,
Joey Votto
,
Adrian Gonzalez
,
Prince Fielder
,
Mark Teixeira
,
Ryan Howard
,
Paul Konerko
,
Gaby Sanchez
and Justin Morneau (if he ever gets things figured out). Where would Posey fit here? Maybe ninth or 10th, at best? Not even in the same ballpark as the top five and overall pretty run-of-the-mill at this position. That much is certain.
Here are
15
of the top hitting corner outfielders:
Jose Bautista
,
Ryan Braun
,
Carlos Gonzalez
,
Lance Berkman
,
Andre Ethier
,
Carl Crawford
,
Matt Holliday
,
Matt Joyce
,
Josh Hamilton
,
Nelson Cruz
,
Mike Stanton
,
Carlos Quentin
,
Jay Bruce
,
Justin Upton
and
Shin-Soo Choo
. Where would Mauer fit there? Obviously if Mauer could hit every season like he did in 2009, he'd be fine -- though still behind the likes of Bautista and Braun. Otherwise, the lack of power leaves him a bit behind the pack. Probably behind everyone listed here. If nothing else, he's extraordinarily overpaid. You don't give a 10-home run right fielder $184 million.
Speaking of money, what about Posey's first free agent paycheck? That's one reason it would be good to try and stay behind the plate, assuming he comes back fully healthy and proves it for at least a full season. When it comes time to extend Posey long-term, the
Giants
will certainly be much more willing to cough up big-time money for Posey's offense if it fits behind the plate. If he's playing first base, his 25 or so home runs don't look nearly as appetizing when you see what guys like Votto, Fielder, Teixeira and Cabrera are capable of doing. There's a reason Posey's agent has been all over the league to better protect catchers instead of telling the Giants to move his client out of harm's way.
Obviously the long-term health of two talented ballplayers -- and incredibly likable guys, too, I must point out -- is much more important than how their offensive numbers fit from the humanitarian perspective. But Major League Baseball teams are a business. Presumably, they're in the business of winning. It's pretty clear the offensive numbers Mauer and Posey produce are worlds more valuable at the catcher position than at first base or in the outfield. This is why the moves haven't been made yet and why everything will be done to prevent the move going forward.
For more baseball news, rumors and analysis, follow @cbssportsmlb on Twitter or subscribe to the RSS feed.