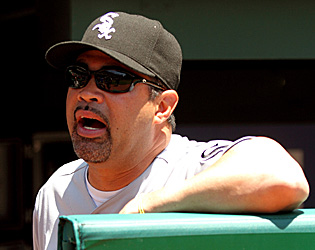 By Matt Snyder
Even though things have improved in the past several weeks, the
White Sox
have still -- on the whole -- had a rough 2011 season. It seems like if they get good pitching, the offense fails. If they score some runs, the pitching or defense will find a way to allow runs. There were bullpen issues earlier in the season and the underachievement from several members of the offense continues. I'd imagine it would be quite frustrating for everyone from players to management to fans.
After a
Corey Patterson
walk-off home run in the 14th inning buried the White Sox Saturday afternoon, manager Ozzie Guillen told reporters exactly what was on his mind. Here are a few of the quotes,
via Mark Gonzales
of the
Chicago Tribune
.
"After the ninth inning, we [expletive] stink."
"Our offense [expletive] sucks after the ninth."
"I'm drained now. I feel like I'm in September right now. You can ask my coaches. We feel the same way."
"I've been watching the same [expletive] a lot of times with men in scoring position."
It's hard to blame Guillen. The White Sox have every bit as much talent as any other team in the AL Central and sit at 24-30. And he's not wrong about clutch hitting. Entering Saturday's game, the White Sox were hitting .220 with two outs and runners in scoring position. They were hitting just .222 in "late and close" situations (
BBRef
). Even the biggest hit Saturday was of the excuse-me variety.
Paul Konerko
's game-tying double in the ninth inning was actually a blooper in no-man's land in shallow right field. In the 11th,
Brent Morel
led off with a double and was stranded at third after
Adam Dunn
popped up and
Carlos Quentin
flied out. A baserunner was also stranded at third in the 12th inning.
Basically, you can see how it would wear down the skipper. That sentiment was simply vocalized by Guillen after the tough loss.
For more baseball news, rumors and analysis, follow @cbssportsmlb on Twitter or subscribe to the RSS feed.