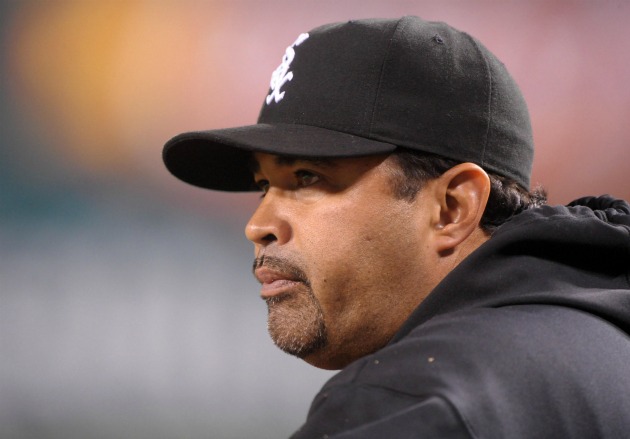 By C. Trent Rosecrans
Oh, Ozzie Guillen... First he goes off on the fans and then he goes off on reporters because he went off on fans. I actually didn't see too much wrong in what he said before Sunday's game against the
Blue Jays
-- other than, you know, general Ozzie hyperbole, but then he apparently didn't appreciate the
subheadline on the Chicago Tribune
that read: "Sox manager says they're ungrateful for 2005 championship."
And so Ozzie took to Twitter. And here's that rant: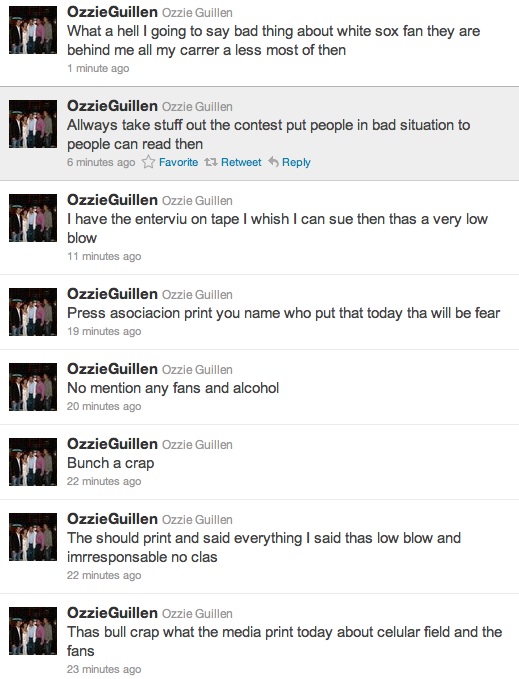 Before the game, here's a bit of what Guillen said about criticism of him and his coaching staff following his harsh comments about the
White Sox
hitters.
From Mark Gonzales of the Chicago Tribune:
"They'll only remember the 2005 team in 2020 when we come here in a wheelchair," Guillen said. "Oh yeah, thank you. As soon as you leave the ballpark, they don't care about you any more. They don't. The monuments, the statues they have for you, they [urinate] on it when they are drunk. That's what they do. Thank you for coming for 30 minutes for all the suffering you did all your life, day in and day out.

"I wish I don't feel any thing for this game. I wish I didn't care about the White Sox. what the general manager, fans, media thinks. I wish I could say, '[bleep], I don't give a [bleep]. I can't. I try to put it in my mind that I don't but I can't because I love baseball, I love this organization and this is a job I want to do. I'd be lying to myself. I do care about this [stuff]. I have a contract for next year. I can get dressed, go home, have dinner with my wife.

" ... I was upset because we had a chance to win, and we're not in position to give games away. And we did."
There's more -- much more -- including Guillen saying "nobly has more passion for this game than me." He also explained some of his moves in Saturday's 14-inning loss to the Blue Jays, saying "you're dragging and your stomach is squeezing and you're sick to your stomach and [thinking] hopefully this thing works."
As always, it's worth reading Guillen's entire rant. I think it's hard to argue that Guillen has passion -- and you'd be hard pressed to find someone who expresses it in a more entertaining fashion.
Do I agree with all of Guillen's moves and statements? No, but it's hard to argue that he has passion and wants to win.

And, if you wish to decide for yourself, here's the video of his Sunday meeting with the media.


For more baseball news, rumors and analysis, follow @cbssportsmlb on Twitter or subscribe to the RSS feed.