By C. Trent Rosecrans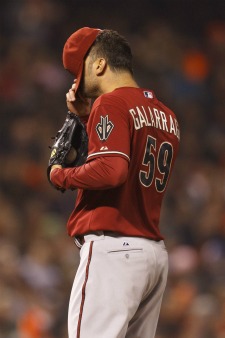 Remember when Armando Galarraga was honored as all that is right with baseball? He's not doing much to help that image.
Galarraga had his perfect game blown by Jim Joyce's bad call at first, but instead of argue or pout, he went out and got the next batter out, won the game and refused to blast the umpire. The next day he shook the hand of the apologetic umpire. It was a great story, except there was no "happily ever after."
Galarraga went 8-13 with a 4.82 ERA in his 21 starts last season after the not-perfect game and was traded to the Arizona Diamondbacks in January. In eight starts for the Diamondbacks this season, the right-hander went 3-4 with a 5.91 ERA and blew up at a reporter when asked following his last outing if he was worried about his spot in the rotation. The next day he was outright to Triple-A Reno.
He's scheduled to make his first appearance for the Aces today against Sacramento after being rained out last night.
Speaking to Chris Gabel of the Reno Gazette-Journal, Galarraga again expressed his anger at being sent down.
"I don't think there's anything specific I need to work on," Galarraga said. "Whatever they say, I don't care."
As for why he accepted the assignment to Reno instead of choosing free agency?
"The money," he said. "They have to pay me $2.3 million to come here."
Galarraga also defended his pitching this season -- saying he pitched well in his first three starts because his team won those games. In those three games, he went 18 innings, allowed 12 earned runs and 18 hits, including six home runs. In toss starts, he was actually pretty lucky, with a .240 batting average on balls in play. Even though he hasn't pitched in the big leagues since May 16, his 13 home runs allowed are the third-most allowed by any pitcher in the National League, trailing the 14 allowed by Bronson Arroyo and Brett Myers, who have pitched 20 and 26 more innings than Galarraga, respectively.
While Galarraga's attitude toward his team's front office isn't going to win him any friends, it's hard to fault him for not giving up on $2.3 million. That's a lot of money -- and when you're giving up home runs at that rate, it may not be easy to find another taker for your pitching services.
For more baseball news, rumors and analysis, follow @cbssportsmlb on Twitter or subscribe to the RSS feed.