By C. Trent Rosecrans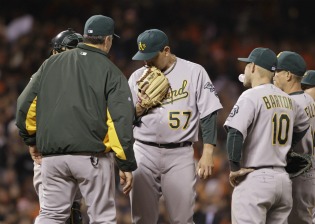 You may have missed it last night, but the A's switched closers again, with Brian Fuentes picking up the save in Oakland's 4-2 victory.
It was Fuentes' first outing since blasting manager Bob Geren following Monday's game. The next day, Geren declared Grant Balfour the closer. However, in his time as the "closer," Balfour made just one appearance, entering Tuesday's game ina non-save situation. Balfour gave up Mark Trumbo's three-run homer, but the A's still won, 4-3.
Geren said he talked to both pitchers after Thursday's game and told them Fuentes would go back to closing -- so maybe he learned from Fuentes' criticism of his communication skills.
According to Joe Stiglich of the Bay Area News Group, Balfour sounded "perplexed" by the situation.
"I was kind of in the closer's role for four days and no chance to close," He said. "It's kind of weird, but whatever. I'm just trying to pitch, whatever it takes to win for the ballclub."
Still, it will be a moot point soon enough. Andrew Bailey returned from the disabled list before Sunday's game. Bailey won't close games right away, but will ultimately return to the role.
"When he's ready to assume the closer role, I'll give it to him," Geren told Susan Slusser of the San Francisco Chronicle.
For more baseball news, rumors and analysis, follow @cbssportsmlb on Twitter or subscribe to the RSS feed.