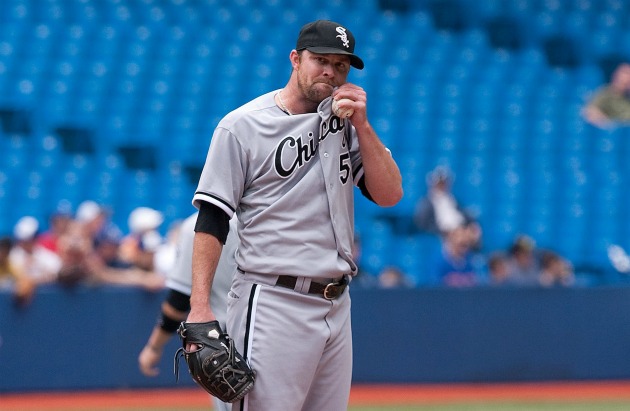 By C. Trent Rosecrans
White Sox starter John Danks -- he of the 0-8 record and 5.25 ERA -- called Jose Bautista -- he of the 20 home runs -- a "clown" on Sunday.
Danks, who allowed six runs in the first inning of Sunday's 13-4 loss to the Blue Jays, was upset after Bautista popped up a 3-2 pitch for the second out of the Blue Jays' three-run fourth inning. Bautista tossed his bat, apparently upset with himself, and jogged toward first as the ball was caught.
See the play here -- and listen to the White Sox announcers unsurprisingly take Danks' side.
As Bautista headed back to the dugout, Danks had some words for baseball's best player of the season.
"I just told him to run the bases. He was out there acting like a [expletive] clown. I told him to run the bases," Danks told reporters, including the National Post. "He's a good player. He's had a great year and a half, no doubt, He's one of the best players in the league. He was out there acting like he's Babe Ruth or something. That's horse [stuff], I think"
Danks added, "He isn't that good to be acting like he needs to hit every ball out of the ballpark. That's just the way I feel. I have pride. I really do. I've had a pretty crappy year to this point, but I still have pride and I'm not going to let him sit out there and show me up like that. I just told him to run the bases and quit acting like a clown."
The thing is, nobody would have noticed had Danks not called attention to it. Players get upset with themselves all the time, spiking a bat his hardly something unique to Bautista. At that point, Danks maybe should've been happy he actually retired Bautista -- or any batter since he was trailing 9-2.
Here's Bautista's side:
"I was upset at missing a pitch, at myself," Bautista said. "If he took it the wrong way, I'm sorry, but I'm not here to make him feel good.
"It really doesn't matter to me what he thought. What I'm not going to allow is when I'm running by him, him yelling at me again, so I yelled back at him."
The Post also said White Sox announcer Ken Harrelson suggest on-air that Bautista was corking his bat -- he also admonished Bautista on-air about the incident with Danks. And then the announcer made a trip to the Blue Jays' clubhouse after the game, which writer John Lott described thusly: "Harrelson made a special trip to the Toronto clubhouse after the game and fawningly introduced himself to Bautista. The two chatted for a few minutes. Apparently, the content of Bautista's bat did not come up."
For more baseball news, rumors and analysis, follow @cbssportsmlb on Twitter or subscribe to the RSS feed.