By C. Trent Rosecrans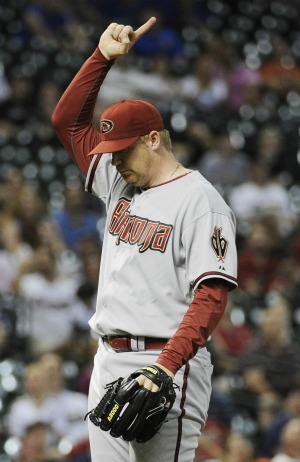 Welcome to first place, Arizona Diamondbacks.
Yep, you read that right, the Diamondbacks have ridden a six-game winning streak -- all on the road -- to the top of the National League West standing, moving past the Giants with their victory over the Astros and San Francisco's loss in Milwaukee.
"This is good right now, but we've got a long way to go," manager Kirk Gibson told Nick Piecoro of the Arizona Republic. "We've talked about playing good baseball. It's hard to sustain it."
But the Diamondbacks have in the last 16 days, going 14-2 since dropping five in a row earlier this month.
As for the short-term changes, Piecoro pretty much nailed it in this piece -- Josh Collmenter into the rotation, Armando Galarraga out. Juan Miranda in at first base, Russell Branyan out. And then he adds the improvement of starter Joe Saunders and second baseman Kelly Johnson.
More than just the last two-and-a-half weeks, the Diamondbacks have been much better than they were a year ago, when they were 65-97, the third-worst mark in the big leagues.
First off, a lot of credit has to go to Kirk Gibson, in his first full year as a manager. His team is playing like he did -- all out, all the time.
Secondly, the bullpen is night-and-day better, and the thanks there has to go to general manager Kevin Towers.
Last season the bullpen had a 5.74 ERA -- the worst mark in the National League since divisional play began.
This year it's 3.40 ERA. The teams four blown saves are tired for fourth-fewest in the big leagues.
Closer J.J. Putz is perfect in his 15 save attempts and has struck out 20 in 22 innings, allowing just four earned runs. He's been joined by left-hander Joe Paterson (one earned run in 22 games), Sam Demel (three earned runs in 21 appearances) and David Hernandez (five earned runs in 24 appearances). Esmerling Vasquez has been pretty good, going 0-1 with a 3.32 ERA.
Demel and Vazquez were in the team's bullpen last season, but Towers worked on remaking the team's bullpen in the offseason, signing Putz as a free agent and getting Hernandez in the trade that sent Mark Reynolds to Baltimore. Paterson is a rookie who was taken by Towers in the Rule 5 draft out of the Giants' system.
In the end, the Diamondbacks may not be able to hold onto this lead -- especially against the defending World Series champs and the powerful Rockies. But they could -- nobody thought Cleveland would still lead their division on Memorial Day, yet the Diamondbacks and Indians are, and that's pretty fun.
For more baseball news, rumors and analysis, follow @cbssportsmlb on Twitter or subscribe to the RSS feed.