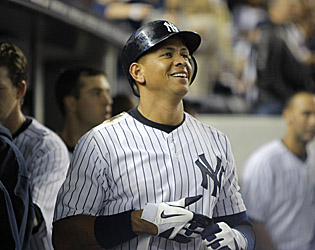 By Matt Snyder
The most overrated player in baseball is
Alex Rodriguez
, according to a poll of 185 major leaguers taken by
Sports Illustrated
. A-Rod received 18 percent of the vote, and was one of three
Yankees
in the top five. In fact, the three Yankees named were the top three in all of baseball.
Joba Chamberlain
checked in second at 12 percent, with
Derek Jeter
garnering seven percent of the vote.
Red Sox
closer
Jonathan Papelbon
and
Nationals
outfielder
Jayson Werth
tied for fourth with four percent of the vote each.
Do the players who voted for Jeter understand "overrated" doesn't mean "overpaid?" I'm trying to figure out how many people actually still think Jeter is an elite player, and judging from everything you see on message boards, Twitter or hear on talk radio, pretty much everyone agrees he's washed up.
Chamberlain is an interesting inclusion because his value has not come anywhere near close to the hype that came with him several years ago, but I don't really think any large group of people thinks he's a great -- or an even good -- pitcher at this point.
On A-Rod, he's polarizing, so it's not shocking he'd get the most votes. Still, you rarely see arguments he's the best player in baseball anymore. He's pretty universally regarded as an All-Star but not elite. With nine home runs, 27 RBI, 30 runs and an .824 OPS, that's exactly what he is this season, too.
Papelbon's a tough call. I believe the closer position in general is overrated, but Papelbon himself is having a fine season. Nothing really jumps out about him specifically. Werth is badly overpaid, but the Nationals were pretty well destroyed for that contract from the get-go.
Don't discount these are all East Coast guys, either. The backlash against "East Coast Bias" appears to be alive and well.
It's hard to blame the major-leaguers for voting like this. They probably don't pay a ton of attention to how guys are perceived nationally and instead see the contract numbers of peers. Plus, the general term "overrated" is pretty broad. It's hard to pinpoint exactly what we're supposed to be using to judge.
For more baseball news, rumors and analysis, follow @cbssportsmlb on Twitter or subscribe to the RSS feed.